Women's Basketball Hold Off Storm in Win
Jan 24, 2015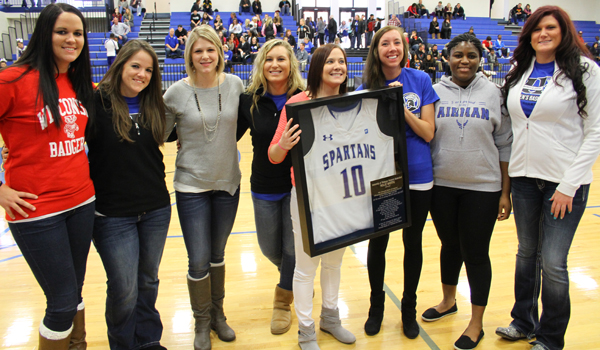 Former Spartans join Mollie Whiting who received her jersey for her four-year standout career as a Spartan. (See: Notes)
BOX SCORE

DUBUQUE, Iowa –Senior Jenna Kotas scored a game-high 25 points in a bounce-back game and the University of Dubuque women's basketball team hit their free throws down the stretch to fend off Simpson, 78-72, on Saturday afternoon.

Thanks to some hot shooting, the Storm (13-4, 3-3 Iowa Conference) clawed their way to a three-point deficit with 6:21 to go, but would come no closer as the Spartans (11-6, 5-1 Iowa Conference) made 10 free throws, including six by Meggie Schmidt, in the final 1:25 to put the game away.

Schmidt totaled 16 points, four rebounds, four assists, and hit 8 of 10 free throws while Kayla Springer added 13 points and six boards.

Kotas and the Spartans rediscovered themselves after an unconventional win over rival Loras on Wednesday night. Kotas – the IIAC's leading scorer – totaled just two points and the Spartans mustered eight free throw attempts after averaging over 30 in their previous four IIAC games.

It was a whole new ball game from the get-go as Kotas got on the board after scoring the Spartans first two points en route to a 29-23 Spartan advantage at the break. Kotas finished 2-for-2 at the line as the Spartans converted 12 of 14 overall.

The game remained close until an early second half 13-0 run, featuring seven points by Kotas, ran the Spartan lead to 14 with 13:47 remaining. Simpson countered with seven straight points but was soon trumped by the efforts of Abbey Meyer. In one possession, the 5-2 backup point guard hustled her way to a pair of offensive boards and canned a three from the left wing to put an end to the Simpson run.

In one of her best all-around games, Meyer scored eight points, distributed a team-high four assists, and pulled down four boards.

The Spartans ended the game 26 of 37 from the free throw line and dished out 16 assists on 22 made field goals. Brittany Hedrick led Simpson with 16 points and was one of four double-digit scorers for the Storm.

UD claimed their second win in five games over Simpson and avenged a 73-36 loss a year ago. The two will meet again at Simpson on Wednesday, February 11 at 6:00 p.m.

Next up for the Spartans is IIAC-leading Coe (12-5, 5-1 Iowa Conference) next Wednesday, January 28 at 6:00 p.m. Coe defeated Central, 62-52, on Saturday afternoon.

Notes
Mollie Whiting '13 and Spartan alumni were honored at halftime. Whiting led the nation in scoring with 667 points in her senior season and was a two-time All-Iowa Conference First Team selection in 2011-12 and 2012-13. Whiting holds two all-time records at UD (career points and made field goals) and is Top-7 in nine others. She is currently a graduate assistant for the UD women's basketball team.