#30-ranked Spartan Wrestling Quiets Storm 36-3
Jan 30, 2015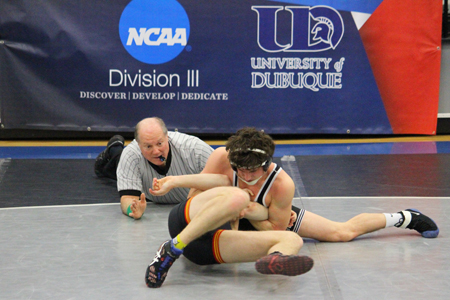 DUBUQUE, Iowa - The #30-ranked University of Dubuque dropped just one match on Friday night en route to a 36-3 victory over the Simpson College Storm in Stoltz Sports Center. Nicholas Rivera captured a fall as time was expiring in the first period of the 133 lbs. match in 2:48. Kody Krenz (pictured above) won by fall in the 149 lbs. weight class in 4:31.
The Spartans battled in two matches into extra time and won in sudden victory in both matches. Dominic Sterr ended tied with the Storm's Ethan Calvert in the 197 lbs. match in regulation at 3-3 and collected a quick takedown to secure the win in the first overtime period winning the match 5-3 for the Spartans. UD's Dan Howell narrowly missed some points as time expired in the second period and his match against Simpson's Colby Vlieger would finish tied 1-1 at end of the three periods. Vlieger attacked quickly in the first overtime period, but Howell slipped away and captured the winning takedown to win 3-1 in sudden victory.
The Spartans improved to 8-10 overall in dual meets and 3-2 in the competitive IIAC. The Spartans host the Loras College Duhawks in Stoltz Sports Center on February 6 at 7:00 p.m.
Match Results:
125: Joey Cisneros (DUBU) over (SIMP) (won by a Forfeit.)
133: Nicholas Rivera (DUBU) over Zach Johnston (SIMP) (Fall 2:48)
141: Devan Berrian (SIMP) over Ethan Kleitsch (DUBU) (Dec 8-2)
149: Kody Krenz (DUBU) over Jonathan Melton (SIMP) (Fall 4:31)
157: Frank Frasetto (DUBU) over Jake Mize (SIMP) (Dec 5-4)
165: Manuel Mendoza (DUBU) over Brian Haynes (SIMP) (Dec 5-2)
174: Elton Turnage (DUBU) over Brett Roberts (SIMP) (Dec 4-3)
184: Matthew Leveille (DUBU) over Spencer Ward (SIMP) (Dec 7-3)
197: Dominic Sterr (DUBU) over Ethan Calvert (SIMP) (SV-1 5-3)
285: Dan Howell (DUBU) over Colby Vlieger (SIMP) (SV-1 3-1)
​Final Score: University of Dubuque - 36, Simpson College - 3
UD Dual meet record 8-10 overall, 3-2 in IIAC
SC Dual meet record 6-10 overall, 0-5 in IIAC