#30-Ranked Wrestlers Suffer Home Loss
Feb 6, 2015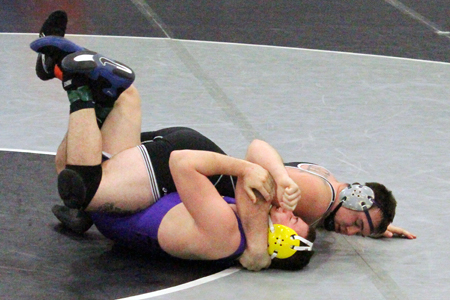 DUBUQUE, Iowa - The University of Dubuque Stoltz Sports Center thundered with a large crowd on hand to watch #30-ranked Spartans vs. Loras College Duhawks. UD jumped out to an early lead when they captured the opening two matches, but the Duhawks rallied back to take the middle weights. UD capped off the evening with a fall at 285, unfortunately for the Spartans, the Duhawks won the hard battled Iowa Conference dual 24-18.
Joey Cisneros won the decision at 125 lbs. over Dayton Olson by a 7-3 score. Nicholas Rivera followed it up with a 3-0 decision at 133 lbs. Loras reeled off four wins in a row and grabbed extra points by earning a fall and a major decision. Elton Turnage at 174 lbs. woke the Spartan faithful up with a fall in 3:48 to slice into the Duhawk lead. The Duhawks extended the lead to 24-12 entering the 285 match. Dan Howell stopped the match in the first period with a fall in 2:06 to finish with the Spartans trailing by six points. UD lost two matches by less than three points each and the score could have easily been swapped with a late period take down or two by the Spartans.
The season doesn't get any easier when UD will face top-ranked #17 Coe College (8-8 overall) in Cedar Rapids and hosting #18 Cornell College (12-8 overall) in dual meets next week before hosting the Jim Fox Open on Saturday, Feb. 14.
#30-ranked University of Dubuque (8-11 overall, 3-3 in IIAC) Vs. Loras College (9-10 overall, 3-3 in IIAC)
Division III Wrestling
Stoltz Sports Center
Dubuque, Iowa
​125: Joey Cisneros (DUBU) over Dayton Olson (LORA) (Dec 7-3)
133: Nicholas Rivera (DUBU) over Michael Triplett (LORA) (Dec 3-0)
141: Nick Steger (LORA) over Stephen Rosenburg (DUBU) (Fall 3:19)
149: Evan Weaver (LORA) over Brian Travis (DUBU) (Dec 7-5)
157: Steven DeWitt (LORA) over Adrian Collier (DUBU) (MD 15-7)
165: Greg Vance (LORA) over Manuel Mendoza (DUBU) (Dec 8-5)
174: Elton Turnage (DUBU) over Tyler Ries (LORA) (Fall 3:48)
184: Awais Arain (LORA) over Matthew Leveille (DUBU) (TF 19-4 6:44)
197: Malcolm Watson (LORA) over Dominic Sterr (DUBU) (Dec 8-2)
285: Dan Howell (DUBU) over Connor Swier (LORA) (Fall 2:06)
Final:
#30-ranked University of Dubuque - 18
Loras College - 24
attendance: 815
Officials: Rick Stahl and Eric Olson