Norris Named IIAC MVP as Three Other Spartans Honored
Mar 4, 2015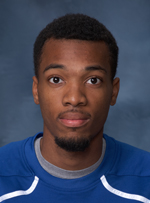 Iowa Conference MVP, junior Andre Norris, received his third straight All-IIAC honor. The Plainfield, Ill. native led IIAC in scoring (21.2 ppg) and finished Top-6 in the IIAC in 6 other major statistical categories.
DUBUQUE, Iowa – Life is good for junior Andre Norris, who helped lead the University of Dubuque men's basketball team to their second Iowa Conference (IIAC) tournament title in three years and earned the IIAC MVP award after leading the IIAC in scoring at 21.2 ppg. Senior Gage Heffernan and Lucas Ware were also selected to the All-IIAC First Team and Second Team, respectively, while Brandon Ferguson secured the IIAC Defensive Player of the Year.

Norris was nearly unstoppable during the Spartans (23-5, 10-4 IIAC) three-game championship run after putting up a gaudy stat line: 24.7 ppg, 8.0 rpg, 3.0 apg, 3.0 bpg, and 3.0 spg. The 6'7" forward scored both inside and out and when he wasn't on the receiving end of an alley-oop, he hurt the opposition from downtown (eight threes).

The Plainfield, Ill. native's scoring prowess has lifted him to 12th place on UD's all-time scoring list with 1313 points. He passed 2014 graduates Chris Frazier (13th) and Mitch Michaelis (17th) and along the way. The 2013-14 First Team All-IIAC and 2012-13 Second Team All-IIAC selection posted a season-high 32 points on three separate occasions. One of those instances was against 2014-15 IIAC regular season champion Buena Vista and another was against the IIAC's second-best scoring defense (67.8 ppg) against Luther. In three games vs. the Norse, he averaged 30.7 points and 9.7 rebounds.

The one-time D3Hoops.com National Team of the Week and seven-time IIAC men's basketball player of the week selection led the IIAC in scoring (21.2) and blocks (1.57) and finished Top-6 in six other categories: rebs (8.3), min (31.4), FT% (83.5), steals (1.79), 3P% (44.4), and 3PM (32) during conference play.

UD's November Male Athlete of the Month majors in business.

"Andre had a great year and really played well down the stretch," stated Head Coach Robbie Sieverding. "He is a tough matchup for most teams and he started making more perimeter shots the past month, making him very hard to guard. He also played a major role for us on the glass and led our league in blocks. Just an outstanding year all around and well deserved mvp."

Ferguson amped up the defensive intensity throughout the IIAC season to capture IIAC Defensive Player of the Year honors. The Gurnee, Ill. was still a threat on the offensive end after compiling seven double-digit scoring games in IIAC play, including an efficient, 7 of 13 shooting, 15-point performance against Wartburg in the IIAC Tournament Championship game.

The senior averaged 8.7 points, 3.3 rebounds, 1.6 assists, and 1.1 steals during 14 IIAC games. Ferguson ended up 10th in the IIAC in steals and secured at least one in all but three games during conference play. He anchored the IIAC's number one scoring defense at 67.0 ppg, best scoring margin (+10.8), and second-best field goal percentage defense (39.9%).

Ferguson majors in criminal justice.

"Happy to see Brandon get the Defensive Player of the Year," added Coach Sieverding. "Brandon took on the challenge of guarding the best guard on the opposing team each night and did a great job. Brandon also improved offensively throughout the year and scored some big buckets for us."

Heffernan was a force in UD's three-game IIAC Championship run after averaging 17.7 points, 7.7 rebounds, and 3.0 assists on 16-for-28 shooting (57.1%). That kind of production mirrored his contributions throughout the year, especially during IIAC play.

The Dubuque, Iowa native posted averages of 14.2 points, 6.4 rebounds, 3.4 assists, and 2.1 steals during IIAC play. Heffernan paced the IIAC in steals, ended up second in assists, placed second in assist/turnover ratio (2.40), snagged the second-most offensive rebounds (2.86), and finished sixth in field goal percentage (50.9%).

The 2013-14 Second Team All-IIAC selection snagged five double-doubles on the season with three coming during IIAC play, a 23-point, 10-rebound performance at Coe, a 17-point, 12-rebound showing at Simpson, and a 10-point, 12-assist night in regular season finale vs. Luther.

The senior captured one IIAC Male Athlete of the Week award for his efforts at the Colorado College Tournament spanning November 28-29 where he was named Tournament MVP. Heffernan's 28 points on 9 of 14 shooting against Colorado College were a season- and career-high.

Heffernan has scored 10+ points in all but four games this season. The Dubuque Hempstead graduate majors in Health and Wellness.

"Gage had a very good year as well," commented Coach Sieverding. "Gage plays so hard and was an energy guy for us all year. He is on the top of the league in numerous categories and really was a rock for our team throughout the season. Gage will do whatever our team needs to win and was happy to see his hard work pay off."

Ware turned up the heat during IIAC play, nearly doubling his scoring and rebounding averages from his non-conference statistics and recording two double-doubles. Ware also contributed 15.3 ppg and 5.3 rpg during UD's three-game IIAC tourney championship run.

The Platteville, Wis. Native's first double-double came at Loras in a 20-point, 11-rebound performance and his second was a 18-point, 10-rebound night vs. Coe. Both double-doubles came in the span of three games and sandwiched a career-high scoring night, 26 points on 11 of 14 shooting, in a 105-62 drubbing of Central on the road.

Ware averaged 6.2 points and 3.1 rebounds during non-conference play as his stats swelled to 13.3 points and 6.8 rebounds during the IIAC season (14 games). The senior scored 11+ points in all but four IIAC games and collected 8+ rebounds in six games.

On the season, Ware posted single-season career highs in points (10.2), rebounds (5.4), assists (2.0), field goal percentage (47.3), three-point percentage (34.1), and steals (37).

Ware majors in business.

"Lucas played really well the past month or so and for a stretch in the middle of the season was our best player," added Coach Sieverding. "I was really proud of his efforts in coming all the way back from his ACL injury last year. Lucas played a huge role in leading our team and was a big part to our success."

The Spartans face their biggest test of the year against Illinois Wesleyan (19-8, 10-4 CCIW) in the First Round (hosted by UW-Stevens Point) of the NCAA Division III NCAA Tournament this Friday, March 6 at 5:00 p.m.