All-American! Norris Garners D3hoops.com National and Regional Honors
Mar 31, 2015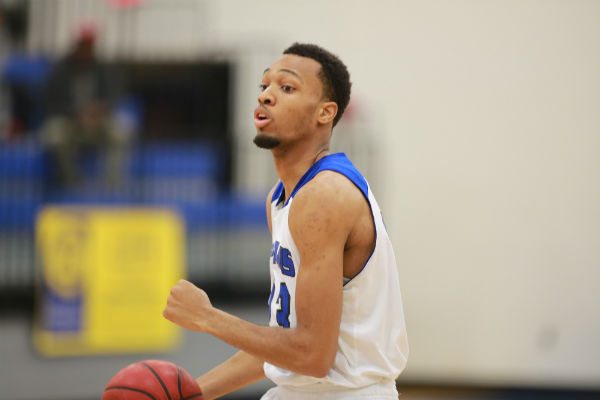 D3hoops.com All-Americans
D3hoops.com All-West Region teams

DUBUQUE, Iowa - The awards continue to roll in for junior Andre Norris as he added a D3hoops.com Honorable Mention All-American and D3hoops.com First Team All-West Region selection to his Iowa Conference MVP award.

The Plainfield, Ill. native was one of 25 players selected to the five D3hoops.com All-American teams. It was the third D3hoops.com honor bestowed upon Norris this season after capturing First Team All-West Region accolades and a National Team of the Week (Feb. 16-22, 2015) distinction.

The junior earned his first career D3hoops.com All-American recognition after posting season averages of 20.0 points, 8.8 rebounds, 2.4 assists, and 2.1 blocks on 50% shooting in 29 games played.

Norris posted the first of nine double-doubles after his 19-point, 14-rebound performance against 2015 NCAA Division III National Tournament qualifier, Concordia (Wis.). In three games against NCAA Tournament qualifiers (Concordia, Northwestern-St. Paul, and Elmhurst), Norris scored 19.7 ppg, snagged 9.0 rpg, and shot 55.3% from the field.

Norris, who currently ranks 12th on UD's all-time scoring list with 1322 points, helped lead the University of Dubuque men's basketball team to their second Iowa Conference (IIAC) tournament title in three years and earned the IIAC MVP award. The three-time All-IIAC selection was nearly unstoppable during the Spartans (23-5, 10-4 IIAC) three-game championship run after putting up a gaudy stat line: 24.7 ppg, 8.0 rpg, 3.0 apg, 3.0 bpg, and 3.0 spg. The 6'7" forward scored both inside and out and when he wasn't on the receiving end of an alley-oop, he hurt the opposition from downtown (eight threes).

The seven-time IIAC men's basketball player of the week selection led the IIAC in scoring (21.2) and blocks (1.57) and finished Top-6 in six other categories: rebs (8.3), min (31.4), FT% (83.5), steals (1.79), 3P% (44.4), and 3PM (32) during conference play.

Norris scored in droves to capture his first career D3hoops.com National Team of the Week (Feb. 16-22, 2015). The junior also earned the IIAC Male Athlete of the Week award after totaling 32 points a piece in a 94-80 loss against Buena Vista (Feb. 18) and a 77-63 win over Luther (Feb. 21) on Saturday. It was his highest scoring two-game stretch of the season and his third and fourth 30-point games of the season.

Against Buena Vista, Norris shot 10-for-22 and canned a season-high five threes. Norris' showed off his defensive prowess after emphatically swatting four shots, but couldn't hold back the IIAC's highest-scoring offense. Norris and Co. bounced back with a win over Luther thanks in part to Norris' 15 first half points and a 47-29 lead at the break. The 2013-14 First Team All-IIAC selection finished 11-for-18 from the field against Luther with three three-pointers and six rebounds. Norris averaged 31.5 points in two games vs. Luther and their second-ranked IIAC scoring defense (67.8 ppg).

The Spartans' 23rd 1000-pt scorer majors in business.

With one season remaining, the 2014-15 IIAC scoring champ sits 606 points away from overtaking Tim Lundquist and becoming the top scorer in UD history.