Men's Lacrosse Beaten by Raiders on Senior Day
Apr 11, 2015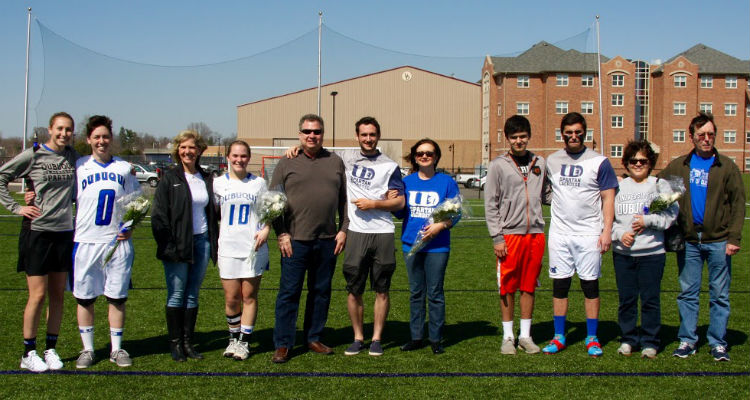 Four lacrosse seniors were honored during Senior Day at Oyen Field on Saturday. From LEFT: Chelsea Hawkins, Judy Borah, Andrew Triantos, and Andrew Poncer
BOX SCORE
DUBUQUE, Iowa - The University of Dubuque men's lacrosse team couldn't overcome an 8-1 halftime deficit as they fall to the Milwaukee School of Engineering, 16-2, on Saturday afternoon.

The Spartans (2-7, 1-3 CCIW) honored a pair of seniors, A Andrew Triantos and MF Andrew Poncer, during pre-game, but couldn't quite send them home with a win after being outshot 44-18.
UD countered the Raiders (5-7, 1-3 MLC) opening goal with an unassisted score by A Britton Harris with 8:13 left in the first. The Spartans trailed 5-1 after the first and clamped down in holding MSOE's offense to three goals in the second despite being outshot 14-1. Harris has scored four of his nine goals in the last two games.

Attacker Colin Grever notched his fifth goal of the year after delivering the Spartans final score at the 12:27 mark of the third quarter.

Spartan goalkeeper, Kyle Mullins (2-6), racked up nine saves on the night and now has 132 through nine games played. The freshman out of Lakewood, Colo. came into today's game leading the CCIW by a wide margin with 52 saves in three conference matchups.

Defensively, the Spartans forced 27 turnovers and scooped up 39 ground balls. Attacker Icle Freeland led the charge after collecting seven ground balls while LM Efrain Rodriguez gathered six. In the center circle was MF Joshua Berey-Wingate who went 8-for-18 in faceoffs.

Poncer was the lone senior to play in today's game for the Spartans and collected four ground balls in the effort. Triantos sat out due to injury.

UD will face Illinois Wesleyan (9-4, 2-0 CCIW) in their home finale this Wednesday, April 15 at 7:00 p.m.