Spartans Men's Tennis Keep Duhawks Winless in 2015
Apr 29, 2015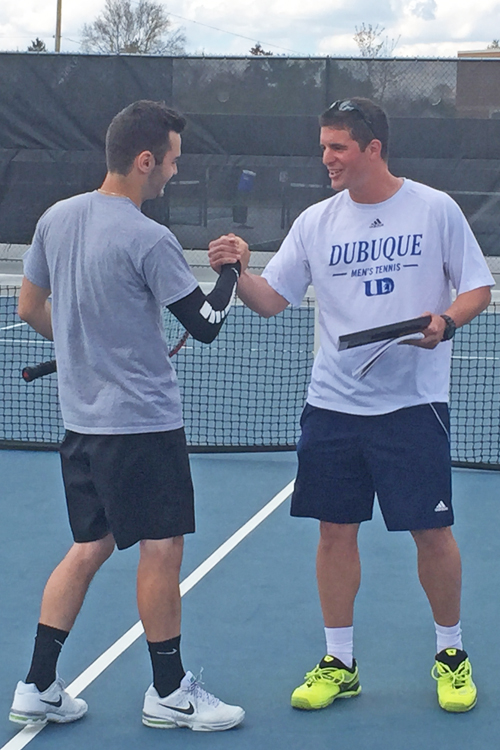 The men's tennis team honored senior Nikolay Gospodinov (Mons, Belgium/SHAPE HS)
before Wednesday's final home tennis match vs. Loras College. UD won the meet 8-1.
DUBUQUE, Iowa - The University of Dubuque men's tennis team didn't need the victory on Wednesday afternoon to qualify for the 2015 IIAC Men's Tennis Team Tournament, they already had secured a qualifying spot locked up prior to the match. The Spartans kept the visiting Loras College Duahwks winless in 2015 with a dominating 8-1 victory on Frank Farber Tennis Courts.
The Spartans jumped out to an early momentum swing by capturing all three doubles matches. UD's #1 doubles team of Richard Rhinehart/Matthew Sablay def. Brian Falvey/Zach Atzen of Loras 8-4. 2. Nikolay Gospodinov/Ranfer Hernandez def. Neil Kane/Jason Derby of Loras at the #2 doubles by a score of 8-2. The Spartan sweep of the doubles happened when the duo of Jordan Hamling/Zebulon Hill def. TJ Esporas/Shayne Marquez of Loras 8-2.
The Spartans battled through singles to win five out of the six matches. At #1 singles Richard Rhinehart def. Brian Falvey 6-3, 6-3. Matthew Sablay def. Ulises Hernandez at #2 singles 6-0, 6-4. The Spartans lone senior on the team, Nikolay Gospodinov def. Justin VanWambeke in #3 singles by a 6-4, 6-1 mark. Jason Derby of Loras def. the Spartans Ranfer Hernandez 6-4, 6-2 at #4 singles, before UD rallied to capture #5 singles with Jordan Hamling def. Neil Kane 4-6, 6-4, 10-8, and #6 singles Zebulon Hill def. Jack O'Brien 6-3, 6-1. The loss dropped the Duhawks to 0-15 overall and 0-7 in the IIAC.
The #5 seed Spartans are 3-4 in league play and 7-13 overall will play Wartburg (4-3 in IIAC, 8-14 overall) in the 2015 IIAC Team Tournament opener on Friday, May 1 at 4:00 p.m. The winner of the match will face #1 seed Coe College at 9:00 a.m. on Saturday, May 2.