Borah's Four Goals Leads Women's Lacrosse to Dominant Victory Over Duhawks
Apr 8, 2015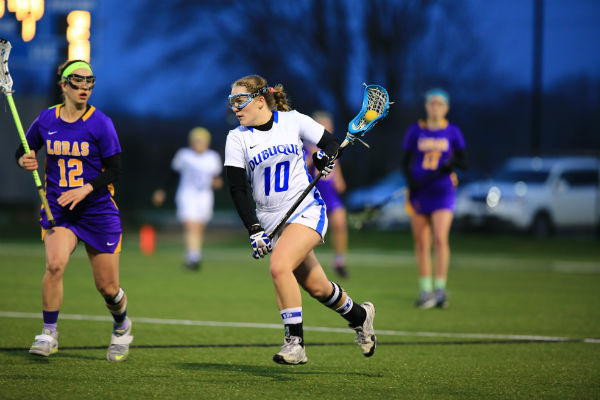 PHOTO: Eric Nie

BOX SCORE
DUBUQUE, Iowa - After facing a 2-0 deficit, 10 minutes into the game, the University of Dubuque women's lacrosse team bounced back with 15 unanswered goals to defeat Loras handedly, 16-6, on Wednesday night.

The Spartans Top-3 scoring threats, Kelly Wetherald (23 goals), Judy Borah (23), and Bridget Schirmers (24) helped kickstart the Spartan offense with a four-goal flurry in a span of three minutes early in the game. The foursome gave the Spartans (7-3, 1-1 CCIW) a 4-2 lead at the 16:32 mark and put to rest a short-lived two-goal Duhawk advantage. Borah netted three of the Spartans next four goals as she scored all four of her goals in the first half. Three of her goals came off free position shots.

Four has been the operative number for Borah after she recorded her fourth, four-goal game of the year and third in the last four matches.

Both Schirmers and Borah spread the wealth after finishing with a game-high two assists each. Borah's last assist with 23 seconds remaining in the game gave Jadyn Franklin her first goal of the season.

The Spartans outshot the Duhawks, 39-19, and held the turnover advantage, 16-24. Despite each of them taking four of UD's 39 shots, both Wetherald and Alora Esparza were deftly efficient in scoring three goals a piece. All three Esparza goals were unassisted and came within the first 10 minutes of the second half.

Defensively, senior goalkeeper Chelsea Hawkins stopped seven Duhawk shots as her record improved to 7-3.

UD avenged an 11-7 loss at the hands of the Duhawks (4-7, 1-2 MWLC) a year ago.

The Spartans host a determined CCIW opponent in North Central College (7-1, 2-0 CCIW) this Saturday, April 11 at 1:00 p.m. The Cardinals slipped by Beloit College, 11-10, in their last bout on Tuesday, April 7.