Rutenbeck Signs with NFL's Washington, Myles Invited to Minnesota
May 11, 2015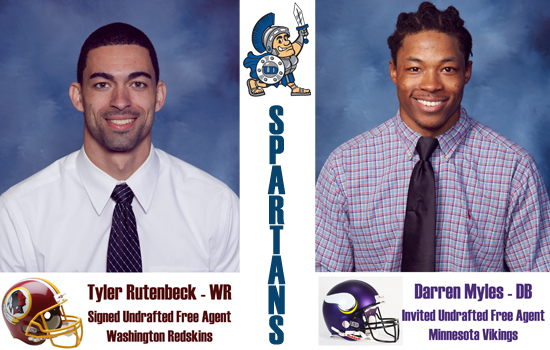 WASHINGTON D.C. — The University of Dubuque's Tyler Rutenbeck (WR, 6-3, 195, Sr., Maquoketa, Iowa/Maquoketa HS) officially was signed on Thursday, May 7 to the NFL's Washington Redskins. The Spartan standout was one of 11 undrafted free agents to be announced by the club as officially signing with the team this week.
Rutenbeck was a starter playing from 2011-14, exiting as the program's record holder in career receiving touchdowns (42). He ranks third in school history in receiving yards (2,715) and fourth in receptions (163), earned First Team All-Iowa Conference honors as a senior in 2014, catching 66 passes for 918 yards with 11 touchdowns. He set school record with 11 straight games with a touchdown reception and led Division III with 22 receiving touchdowns as a junior in 2013, second-most in a season in school history. In 2013 he gained 1,269 yards on 68 receptions, earning First Team All-Iowa Conference, First Team Associated Press Little All-American (D2-D3-NAIA), AFCA Division III All-American and D3football.com All-American honors, among many others. As a sophomore in 2012, Rutenbeck caught 28 passes for 520 yards with a team-high nine touchdowns in eight games. He appeared in two games as a freshman in 2011, recording an eight-yard reception.
Joining Rutenbeck on the recent signing list are: Washington State quarterback Connor Halliday, Clemson pass rusher Corey Crawford, Arkansas tackle Brey Cook, Syracuse inside linebacker Dyshawn Davis, Central Florida inside linebacker Terrance Plummer, Alabama-Birmingham place kicker Ty Long, Texas A&M running back Trey Williams, San Diego wide receiver Reggie Bell, Northwestern wide receiver Tony Jones, and Brigham Young tight end Devin Mahina round out the select list.
EDEN PRAIRIE, Minn. — Teammate Darren Myles (DB, 6-3, 216, Sr., Atlanta, Ga./Carver HS) has been invited to attend the Minnesota Vikings. The Vikings don't announce names of the players brought in for tryouts, but they do consider them competitors for a roster spot now and down the road. After evaluating more than a thousand players to prepare for the draft, the tryout phase allows more detailed observations to be made on players that might not have been at the Senior Bowl, the NFL Combine or various pro days from coast to coast. This group of players has an opportunity to make first-person impressions on talent evaluators.
Myles was a transfer who collected 60 total totals in 2014. He garnered a season-high 14 tackles against Pacific (Ore.) in 16-10 victory on September 20 and intercepted a pass and returned it 44 yards in 29-27 win over Coe College on Nov. 8. His junior season he finished with 55 tackles, broke up five passes, deflected seven, and returned a fumble 37 yards. As a high school prep he was an Under Armour All-American, All-State DB (2x), All-Area DB & WR, Super 11, Superprep All-American, Ranked #4 Safety by ESPN, Ranked #8 Safety by Scout.com, and Ranked #9 Safety by Rivals.com.
Highly-touted draft picks, undrafted free agents and players invited on a tryout basis arrived at Winter Park Thursday evening for their first footsteps into the Vikings locker room and an orientation tour and meeting. The players will join a few non-rookie young players to participate in a three-day minicamp at the team's headquarters, allowing coaches to work directly with players and assess their professionalism. The expansion of rosters to 90 players allows personnel staffs to accumulate as much depth as possible for coaches to stoke as much competition as possible. The more that linemen learn during an offseason program, the better prepared they are for training camp when intensity escalates at the line of scrimmage. Will an undrafted signee position himself for a roster or practice squad spot by the 2015 season? The Spartans Myles sure hopes so, as he begins a battle for one of the open spots on the Vikings team.
The pair of Spartans join former teammates Michael Zweifel, 2011 Gagliardi Trophy Winner and NCAA record holder for career receptions as a wide receiver for UD, who was invited to the Green Bay Packers in 2012, and Wyatt Hanus, quarterback was invited to the Vikings rookie camp in 2013.