UD's Mena and 1997 Hawkeyes to be Inducted in Glen Brand Wrestling Hall of Fame
May 27, 2015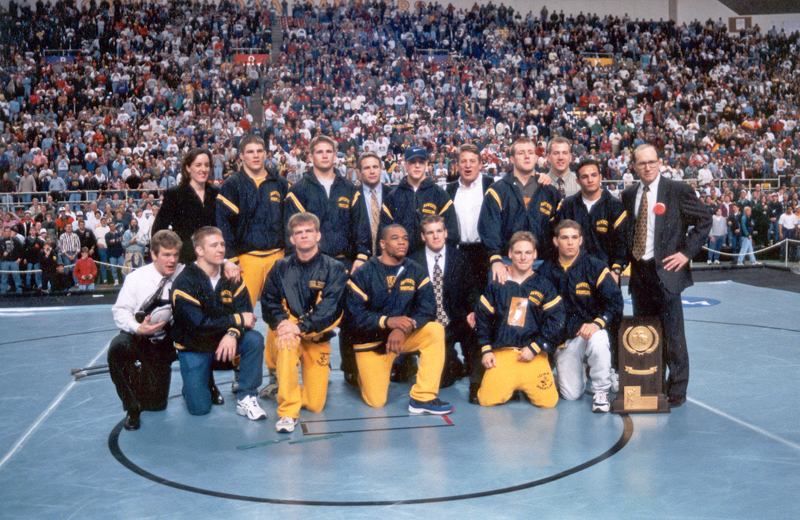 UD's assistant coach Mike Mena (pictured 2nd row next to Coach Dan Gable on right) and the 1997 team members are being
inducted into the Glen Brand Wrestling Hall of Fame on Saturday, May 30 in Cedar Falls. (photo courtesy of the University of Iowa)
WATERLOO, Iowa - The members of the 2015 Glen Brand Wrestling Hall of Fame class have been announced and the University of Dubuque's assistant wrestling coach Mike Mena will be part of the 1997 University of Iowa Wrestling team to be honored. He and his team is joined by four other individuals: Rich Binek, Mike Mann, Rick Caldwell, and Fred Cooper. The National Wrestling Hall of Fame Dan Gable Museum will induct the new members on Saturday, May 30 at the Hilton Garden Inn in Cedar Falls at 4:00 p.m.
The 1997 University of Iowa wrestling team, the third team ever inducted into the Glen Brand Hall of Fame, scored a tournament-record 170 points in head coach Dan Gable's final season. The Hawkeyes won their 17th team title, crowning five NCAA champions and eight All-Americans.
Mena is a three-time U.S. freestyle national team member, earning the status by finishing in the top three at the U.S. World Team Trials in 1999, 2001 and 2003. Mena also competed at the 2000 Olympic trials in Dallas, finishing fifth, while at the 2004 USA Olympic Trials in Indianapolis he placed seventh. Mena won gold medals at the New York Athletic Club International, Sunkist International and the 2000 Olympic Qualification International in Mexico. By winning the gold in Mexico, Mena ensured the U.S. would qualify the 119-pound weight class to the Olympic Games in Sydney, Australia. Additionally, he placed six times at the U.S. senior level Freestyle National Championship.
Mena graduated from the University of Iowa in 1997 where he was a four-time NCAA All-American and a Big-10 Champion. The Iowa graduate played an important part on three NCAA Team Championship Teams for legendary wrestling coach Dan Gable.
The Rock Falls, Ill. native is a graduate of Newman Central Catholic H.S. (1992). Mena was the first four-time undefeated state champion in the history of Illinois High School wrestling. He finished his career with a 157-0 record. Mena has five children; Breanna, Elisia, Chris, Makaley, and Gracie.
The Glen Brand Wrestling Hall of Fame of Iowa was established in 2002 to honor those who have made an impact on the sport on a national level, or who have done extraordinary work in the State of Iowa. The hall recognizes native-born Iowans, and those who achieved their fame while wrestling or coaching for an Iowa school.
For more information about the HOF ceremony and induction banquet, contact the National Wrestling Hall of FameDan Gable Museum at (319) 233-0745 or dgmstaff@nwhof.org.