University of Dubuque Inducts Five into Hall of Fame and Hall of Distinction
Oct 2, 2015 | J.Crane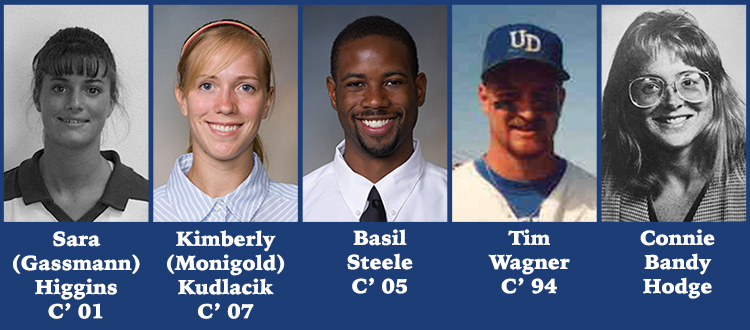 The University of Dubuque will induct the 2015-16 Alumni Athletic Hall of Fame Class on Saturday, October 3, 2015. New members of the UD Hall of Fame are: Sara (Gassmann) Higgins (Class of 2001), Kim (Monigold) Kudlacik (Class of 2007), Basil Steele (Class of 2005), and Tim Wagner (Class of 1994). Connie Bandy-Hodge will be inducted into the Hall of Distinction. The awards ceremony begins at 11:00 a.m. in the Straatmeyer Rehearsal Room in the Heritage Center.
The University of Dubuque Alumni Association established the Alumni Athletic Hall of Fame in 1989 as a permanent place to honor those individuals who have promoted and served the University through its athletic programs.

Each recipient receives a plaque and a lifetime pass to attend all University of Dubuque athletic events. The recipient's name is added to the Hall of Fame plaque located in the Stoltz Sports Center. The Hall of Fame can be found online at: http://www.dbq.edu/Athletics/AthleticsHallofFame/
Saturday, October 3, 2015
10:00 a.m. | Welcome and Check-in (Straatmeyer Rehearsal Room, Heritage Center
10:30 a.m. | Reception and Fellowship
11:00 a.m. | Award Ceremony
1:00 p.m. | Football Game - UD vs. Luther (Chalmers Field)
---
Timothy Wagner, Baseball/Football/Golf - Class of 1994
Timothy Wagner played baseball, football, and golf for the University of Dubuque. Tim's drive for competition and success began at a young age as he started setting baseball and football records at West Aurora High School in Aurora, Illinois, and continued breaking records as a proud Spartan.
Tim chose UD over other offers because of the college's "strong English [department]" and "incredible coaches." Some of his fondest memories include the spring trips "up north" to Minneapolis to play in the Metrodome in early March. During the teams second trip to the Metrodome, he finished 7-for-14 in six games, which is when he knew that UD would be his home. He made lifelong connections with his head coach, Dennis Rima, and assistant coach, Jay Schiesl. Tim still holds UD's All-Time Single Season record in Batting Average (.455 in 1992) and On Base Percentage (.576 in 1991).
Tim used his love of sports and his education in English to be an award-winning sportswriter for The Beacon News in his hometown of Aurora. He has earned awards from the Associated Press in multiple categories: Sports Columns, Sports Enterprise, Sports Features, and Sports Fame Stories. He is currently a marketing manager at the Pampered Chef's world headquarters in Addison, Illinois.
Tim and his wife, Dana, have three children: Cal, Reece, and Sydney. Tim enjoys attending his children's extracurricular activities and he coaches his youngest son's (Reece) baseball teams during the spring and summer. The Wagner family resides in Aurora, IL.
Baseball Accomplishments:
• 1st Team All-Iowa Conference (1992, 1993, and 1994)
• 4-year Starting Third Baseman
• Ninth in Division-III with a .455 Batting Average (1992)
• School Records: Career RBI's (99), Single Season Batting Ave (.455), and OBP (.576)
Football Accomplishments:
• Still holds various UD Offensive Top 5 Records (1992)
• 87 Punts, led all divisions in punt attempts (1995)
---
Sara (Gassmann) Higgins, Volleyball/Softball - Class of 2001
Sara (Gassmann) Higgins could best be described during her time at the University of Dubuque with one word, "first." Sara was named First Team All-Iowa Conference and First Team AVCA All-Region in volleyball during the 1997, 1998, and 1999 seasons. Though the accolades didn't stop there being named Second Team All-Conference in softball in 1997. During Sara's years at Hempstead High School in Dubuque, she was selected First Team All-State in volleyball.
The highlight of Sara's athletic career at UD was traveling with the Division-III USA International Volleyball Team, going from Holland to Belgium in 1999. In addition, she enjoys traveling, in fact her first time on a plane was during her freshman year, traveling to Texas with the volleyball team. In 1998, the Spartans qualified for the NCAA Division-III Championships with Gassmann leading the team in Kills (473), Digs (678), Sets Played (131), Matches Played (35), Kills per Set (3.61), and Total Attacks (1280). Sara also earned the Kenneth "Moco" Mercer Memorial Scholarship, which is awarded to an outstanding senior student in physical education.
After graduation, Sara continued to work at Young-uns Childcare Center, where she was the Assistant Director for 11 years. In 2002, Sara married Matt Higgins (C' 00), they now have three children, Maci (11), Bode (9), and Ty (6). Over the past six years, she has enjoyed being a stay-at-home mom, and now keeps busy with her children's athletic schedules. The Higgins family resides in Spirit Lake, Iowa.
Volleyball Accomplishments:
• 1st Team All-Iowa Conference (1997, 1998, 1999)
• 1st AVCA All-Central Region (1997, 1998, 1999)
• Division-III USA International Volleyball Team (1999)
• 5th All-Time in Division-III Digs per Game: 4.67 *
• 6th All-Time in Division-III Consecutive Matches: 139 *
• 9th All-Time in Division-III, Total Kill Attempts: 4321 *
• 13th All-Time in Division-III Digs per Game: 5.74 *
• 24th All-Time in Division-III, Matches Played: 139 *
• Broke previous Career Dig Record in NCAA: 2,369 (Previously 2,279) *
* At time of Graduation
• School Records: Career Digs (2369), Career Sets Played (507)
Softball Accomplishments:
• 2nd Team All-Conference (1997)
• 3rd Team NFCA All-West Region (1997)
• School Record: Single Season Triples (6 in 1997)
---
Basil Steele, Track & Field - Class of 2005
Basil Steele joined the track and field team after graduating from Sandia High School in Albuquerque, New Mexico. As a freshman he won two events at the Hilltop Invitational, including automatically qualifying for the NCAA Indoor Championship in the 55-meter hurdles with a time of 7.54 seconds. He would go on to finish 3rd earning his first of four NCAA Division-III All-American honors that he would earn as a Spartan. Steele would go on to win the NCAA Indoor 55-meter hurdles Championship in 2003, 2004, and 2005, posting a career best 7.43 seconds as a Senior.
Steele was also a five-time Iowa Conference Champion. He won three straight Indoor 55-meter hurdle titles from 2003-05. He also won back-to-back titles in 2003 and 2004 in the Outdoor 110-meter hurdles. He was also named CoSIDA First Team All-America and First Team All-District in 2005. In 2003, he set the IIAC indoor meet record and held the second-fastest time in school history in the indoor 200-meter intermediate hurdles with 25.63 seconds.
In addition to his sports accomplishments, Basil was actively involved with student organizations and programs, including Student Government, Black Student Union, and was a Wendt Character Scholar.
Since graduation, Basil has moved to Albuquerque, New Mexico, where he and his wife, Courtney, currently reside. Basil is a CGIM professor at Central New Mexico Community College.

Track Accomplishments:
• Three-Time 55m Hurdles Indoor Track National Champion (2003, 2004, 2005)
• Four-time NCAA 55m Hurdles All-American (2002, 2003, 2004, 2005)
• NCAA Division III-Track Coaches Association All-Academic Award
• First Team CoSIDA Academic All-America (2005)
• School Record: Indoor 55m Hurdles (7.43)
---
Kimberly (Monigold) Kudlacik, Soccer/Track & Field - Class of 2007
Kimberly (Monigold) Kudlacik was born to run, coming to the University of Dubuque from Freeport, Illinois. Her sports of choice at UD were soccer and track and field, Kim enjoyed playing on both teams for four years. While a student at Freeport High School, she was a cross country state qualifier in 2001 and 2002.
Kim's breakout season came in 2005 when she had a foot in 38 of the 56 UD goals scored including seven game winning goals. She also had ten multi-goal matches, and was held scoreless only three times that season. She earned IIAC Female Athlete of the Week multiple times and was one of the top ranked players in the nation because of her performance on the field. She would earn Iowa Conference MVP, First Team All-IIAC, and Third Team NSCAA All-Central Region while setting the school record with 26 goals. Monigold also earned First Team All-IIAC in 2006 and Second Team All-IIAC in 2003 as a freshman. A middle-distance runner on the track, she is on the UD All-Time Top 10 list for the Indoor and Outdoor 800m Run and holds was a member of numerous top five performing relay teams.
After college, Kimberly worked as summer-time camp counselor at Camp Winnebago, where she enjoyed teaching people of all ages about team building and concurring challenges. In 2008, Kim took a special education teaching position at Winnebago Middle School. During her time at Winnebago, she served as the middle school head soccer coach (two years), high school assistant soccer coach (one year), and was promoted to head coach (one year). She is now a licensed home daycare provider and enjoys being a full-time mom. Kim and her husband, Jake, have three children, Kaytee (5), Baylee (3), and Huxlee (3 months) and they enjoy spending time outdoors. The Kudlacik family currently resides in South Beloit, Illinois, but is looking forward to building a new country home in northern Illinois.
Kim enjoys returning to her campus home every year to play in the alumni soccer game, and enjoys watching as many games and track meets as possible. She and Jake hope to sign their children up to participate in soccer and other sports, hoping they will develop a love for sports as well.
Soccer Accomplishments:
• Iowa Conference MVP (2005)
• 1st Team IIAC (2005 and 2006)
• 3rd Team NSCAA All-Central Region (2005)
• Single Season School Record: Goals (26, 2005), Points (64, 2005), Game-Winning Goals (7, 2005), Multi-Goal Games (10, 2005)
• Career School Records: Goals (65), Points (166), Multi-Goal Games (18)
Track Accomplishments:
• Second fastest 1600m Sprint Medley Relay indoors
• Third fastest 600m indoors
• Seventh fastest 800m indoors
• Ninth fastest 800m outdoors
• Fourth fastest 4x200m Relay outdoors
---
Connie Bandy-Hodge - Volleyball/Athletic Administration
Connie Bandy Hodge's passion for life, her competitive drive, and athletic prowess have forged her into the person she has become. After earning her bachelor's degree from Loras College and her master's degree from the University of Iowa, Connie was a part of University of Dubuque's Athletic Department from 1991 to 1999. She started as the head women's volleyball coach and then took on the role of director of intercollegiate athletics. During the five years Connie coached at UD, her volleyball team went from 3-30 to 38-8, and advanced to the NCAA Division-III Championships in back-to-back years. In 1995, the volleyball team won the Iowa Conference Championship and advanced to the NCAA Sweet 16. Nearly 20 years after stepping down as head volleyball coach, Connie is still second all-time at UD in career wins with 111. In 1999, Connie resigned from the University of Dubuque to pursue her PhD at the University of Iowa.
Connie has always been recognized as a leader. At Dubuque Senior High School, she served as team captain for each of the sports teams that she played: tennis, softball, volleyball, and basketball. She earned 13 letters from her respective teams. After high school, Connie has coached for the University of Iowa, Loras College, and then University of Dubuque. Along with being inducted to both Dubuque Senior's (1994) and Loras' (1987) Halls of Fame, she was also selected as Head Volleyball Coach of the Year (1994) by the American Volleyball Coaches Association. In 1991, 1993, and 1995, she was named Volleyball Coach of the Year in the Iowa Intercollegiate Athletic Conference. Connie has served as the president and as a board member of the Thunder Hills Country Club. More recently, she is a personal trainer and is the president of her own business that focuses on fitness consulting, health and wellness, and motivational speaking. She is also the race director for a local charity marathon, Run4Troops, which raises money to support local military personnel — past, present, and future. While at the University of Dubuque, Connie proved her physical strength by competing as a body builder and qualified for National Couple's Body Building Competition. In 2002, at the age of 42, Connie and her team completed the Raid Gauloises, a 620 mile adventure race, which took her to the deep jungles of Vietnam.
Connie's greatest personal highlight would be her family: her husband of 30 years, Tim Hodge, her son Zachary, and her daughter Jordan. The Hodge family resides in Dubuque.
Volleyball Accomplishments:
• AVCA Central Region Coach of the Year (1994)
• Iowa Conference Coach of the Year (1992, 1995)
• Two-time NCAA Championships Qualifier (1994, 1995)
• Iowa Conference Regular Season and Tournament Champion (1995)