Brinker, Hot Shooting Keeps Spartans in IIAC Tourney Hunt
Feb 10, 2016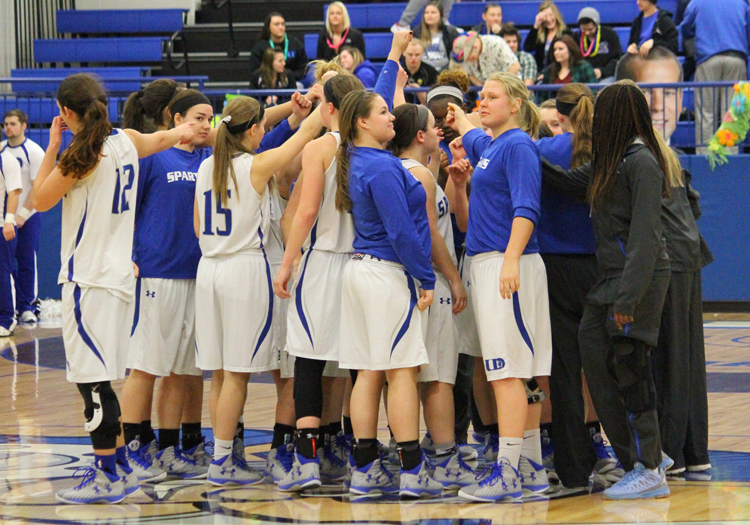 T‌he Spartans kept hope alive for the IIAC Tournament with a victory over the Coe College Kohawks on Wednesday night 94-89.

DUBUQUE, Iowa - The University of Dubuque women's basketball team defeated Coe, 94-89, behind junior Emily Brinker's 29 points on 11 of 16 shooting and a season-best 57.9 percent from the field on Wednesday night.

Hot was the operative word for the Spartans (8-14, 3-8 Iowa Conference) after shooting a blistering 69.2 percent in the second half that allowed them to stay a game back of Coe (13-9, 4-7 Iowa Conference) for the sixth and final Iowa Conference tournament seed. Despite the Spartans' hot hand and 7 of 7 shooting from the three-point line in second half, the Kohawks stayed in it behind a trio of 20-point scorers and some timely three-point shooting of their own.

Like the Spartans, Brinker had her best shooting game of the season and finished 11-for-16 (68.9%) from the field, including 3-for-3 on threes and 4 of 4 from the charity stripe. Brinker, the Iowa Conference's leading scorer, led five players from both sides that scored 20+ points with UD sophomore guard Abbey Meyer adding 20 points and seven rebounds.

Coe's Mickey Hansche posted a team-high 26 points thanks to 6 of 9 three-point shooting, while the Iowa Conference's second-leading scorer, Aleena Hobbs, scored 22 points.

Coe managed to keep up with the Spartans until a trey by sophomore Braanna Steen gave UD a 60-58 lead with under a minute left in the third quarter. It was UD's first lead since a 6-5 score shortly after tip-off. Each team made a run down the stretch as the Spartans saw their largest lead of the game at 82-72 with under four minutes to go, cut down to three with 2:12 to play.

UD made 8 of 10 free throws to finish the game, including the final four by Brinker, to sweep the Kohawks for the first time since the 2002-03 season. The Spartans improved to 26-28 in the all-time series.

In the victory, the Spartans set season-highs in field goal percentage (57.9%), three-pointers made (12), three-point percentage (12-21 for 57.1%), and assists (17).

The Kohawks lead the Spartans by one game with three games remaining. Coe plays two of the top three teams in the conference as both teams face Iowa Conference leading Luther.

UD faces Wartburg (16-6, 6-5 Iowa Conference) on the road this Saturday, February 13 at 2:00 p.m. The Knights beat Loras at home, 60-50 on Wednesday night.