Career Game Helps Lift Norris to First Men's Basketball IIAC POW
Nov 24, 2015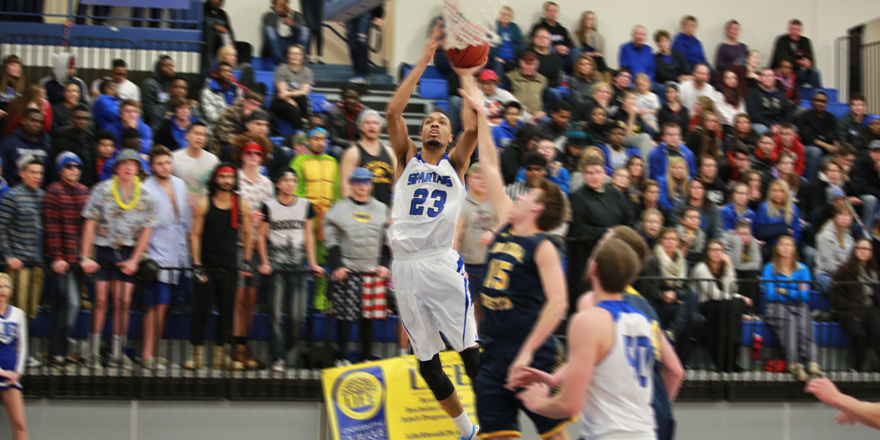 Norris claimed his eighth career IIAC Player of the Week honor thanks to a career-high 37 points in win over MacMurray.
Official IIAC release
DUBUQUE, Iowa - Senior forward Andre Norris exploded for a career-high 37 points and 11 rebounds in win over MacMurray last week and pushed the University of Dubuque men's basketball team to a 2-1 record en route to the Iowa Conference Men's Basketball Player of the Week.

The Plainfield, Ill. native corralled his eighth career IIAC Player of the Week honor and averaged 24.3 ppg, and 11.7 rpg while shooting 50.9% from the field with five blocks and four steals through the season's first three games.

In his 37-point explosion, the 2014 IIAC MVP scored 19 of the team's first 25 points and finished the game 13 of 19 (68.4%) from the field with five threes in a 79-67 win over MacMurray College. Norris scored 17 points with 15 boards in a narrow, 81-76 overtime loss to Illinois College, but still claimed Illinois College Bill Merris' All-Tournament team status.

In the season opener, Norris tallied 19 points and nine rebounds in a victory over UW-Platteville, 75-74.

Norris is on track to become the all-time leading scorer in UD history and needs 533 points over the remaining 22 games (24.2 points per game) to claim the distinction.

The Preseason D3hoops.com Second Team All-American selection majors in business.

Norris and the Spartans face their lone Division I opponent of the season in the University of Northern Iowa this Wednesday, November 25 at 7:00 p.m. at UNI's McLeod Center. It will be an exhibition match for UD and an official game for UNI. The Panthers recently knocked off No. 1 North Carolina last Saturday.