Cross Country Duo Lead Spartans at Loras Invite
Oct 16, 2015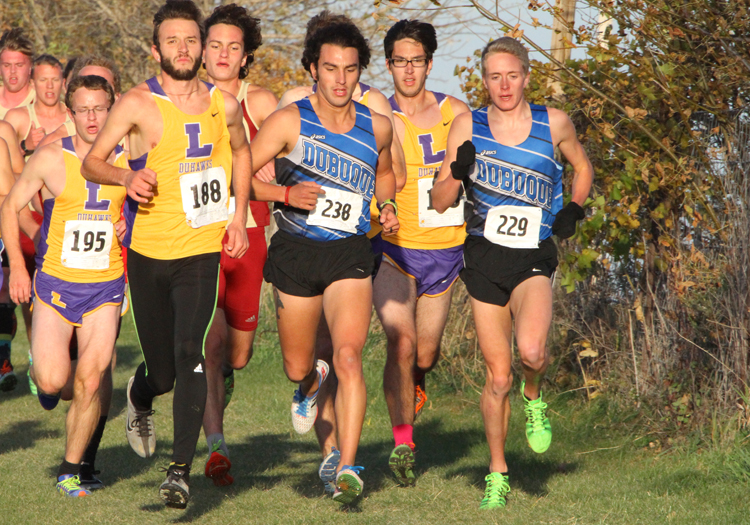 2015 MXC Loras College Invite
DUBUQUE, Iowa - The University of Dubuque duo of sophomore Alec Bass and senior Payton Nevills led the Spartans at the Loras Cross Country Invite held at the Dubuque soccer complex on Friday afternoon. The pair stayed within striking distance of winner Imad Amenzou of NIACC after finishing in a time of 26:28 for Bass and 26:30 for Nevills.

The Spartans racked up 97 points en route to a third-place showing out of 10 teams in a tune-up before the Iowa Conference Championships at the same course. Host Loras College took home first place in 47 points.

Decked out in brand new uniforms and backing up the dynamic duo was freshman Riley Holst, who placed 32nd in a time of 28:17, sophomore Jack Lindsay (37th, 28:33), and freshman Hunter Reifschneider (29th, 28:34). Senior Jordan Murray (46th, 28:51) and sophomore Ames Helzer (51st, 29:21) rounded out the Spartan Varsity.

The Spartans take on the Dubuque Soccer Complex in the Iowa Conference Championships on Saturday, October 31 at 11:00 a.m.
TEAM STANDINGS:
1. Loras College JV- 47                                                  
2. Coe College-48                                                 
3. Univ of Dubuque-97                                                 
4. NIACC-124                                                    
5. Central College JV-137                                                  
6. Buena Vista-170                                                 
7. Southwestern CC-207                                        
8 Scott CC-214                                              
9. Loras College Alumni-228                                          
10. Clarke University-232


 1 #202 Imad Amenzou         SO Niacc                   5:11.7    25:49.4    1   
  2 #229 Alec Bass            SO Univ of Dubuque         5:19.5    26:28.1    2   
  3 #238 Payton Nevills       SR Univ of Dubuque         5:20.0    26:30.5    3   
  4 #156 Alex Lamp            SR Buena Vista             5:23.4    26:47.5    4   
  5 #179 Ryan Izer            FR Coe College             5:24.4    26:52.3    5   
  6 #195 Tyler Schaefer       SR Loras College JV        5:24.9    26:55.0    6   
  7 #226 Zach Freund             Unattached              5:25.9    27:00.1        
  8 #178 Nathan Haerr         SO Coe College             5:27.6    27:08.3    7   
  9 #188 Brady Hunt           JR Loras College JV        5:28.3    27:11.8    8   
 10 #182 Nick Poff            FR Coe College             5:29.2    27:16.4    9   
 11 #185 Aaron Broege         SO Loras College JV        5:30.0    27:20.0   10   
 12 #197 John Stoppelman      SO Loras College JV        5:31.7    27:28.8   11   
 13 #191 Dan Krasich          SO Loras College JV        5:32.5    27:32.7   12   
 14 #183 Austin Springsteen   JR Coe College             5:33.7    27:38.8   13   
 15 #176 Derek Dinderman      FR Coe College             5:34.6    27:42.9   14   
 16 #162 Parker Hill          FR Central College JV      5:35.1    27:45.8   15   
 17 #174 Malik McCrary        SO Clarke University       5:35.4    27:47.3   16   
 18 #186 Matt Gagen           SO Loras College JV        5:35.6    27:48.0   17   
 19 #177 Beau Freeborn        SO Coe College             5:36.6    27:53.1   18   
 20 #180 Colton James-Wells   FR Coe College             5:36.7    27:53.4   19   
 21 #189 Preston Kauder       FR Loras College JV        5:37.5    27:57.7   20   
 22 #192 Matt Marter          JR Loras College JV        5:37.6    27:57.9        
 23 #158 Ben Sampson          JR Buena Vista             5:37.9    27:59.6   21   
 24 #168 Jordan Toomey        FR Central College JV      5:38.1    28:00.5   22   
 25 #200 Tim Wittman          JR Loras College JV        5:38.5    28:02.5        
 26 #221 Inia Sili            FR Southwestern CC         5:38.6    28:03.1   23   
 27 #208 Tyler Randall        SO Niacc                   5:38.7    28:03.7   24   
 28  #42 Josh Pestka          FR Scott CC                5:38.8    28:04.0   25   
 29 #244 Ryan Engelman           Loras Alumni            5:39.3    28:06.3   26   
 30 #190 Nathan Kimbrell      JR Loras College JV        5:39.8    28:09.0        
 31 #196 Lucas Schmidt        FR Loras College JV        5:40.6    28:12.8        
 32 #234 Riley Holst          FR Univ of Dubuque         5:41.4    28:17.1   27   
 33 #205 Nick Frenz           FR Niacc                   5:41.7    28:18.3   28   
 34 #243 Chad Leitzen            Loras Alumni            5:42.2    28:20.9   29   
 35 #167 Colin Thomson        FR Central College JV      5:43.1    28:25.5   30   
 36 #203 Jacob Day            SO Niacc                   5:44.3    28:31.5   31   
 37 #235 Jack Lindsay         SO Univ of Dubuque         5:44.7    28:33.2   32   
 38 #210 Christian Devant     FR Rockford                5:44.7    28:33.5        
 39 #241 Hunter Reifschneide  FR Univ of Dubuque         5:45.0    28:34.7   33   
 40 #169 Karl Weaver          JR Central College JV      5:45.3    28:36.4   34   
 41 #159 Steven Smith         JR Buena Vista             5:46.4    28:41.6   35   
 42 #181 Ben Nelson           SO Coe College             5:46.8    28:43.9        
 43 #165 Ben Renner           SO Central College JV      5:47.4    28:47.0   36   
 44 #161 Jeremy Caracci       SO Central College JV      5:47.6    28:48.0   37   
 45 #170 Nick Anderson        SO Clarke University       5:48.1    28:50.1   38   
 46 #237 Jordan Murray        SR Univ of Dubuque         5:48.3    28:51.4   39   
 47 #204 John Enright         FR Niacc                   5:50.0    28:59.8   40   
 48 #163 Anthony Kemp         FR Central College JV      5:50.1    29:00.1   41   
 49 #193 Jack Reschenberg     SO Loras College JV        5:50.5    29:02.3        
 50 #219 Gabriel Esser        FR Southwestern CC         5:50.7    29:03.0   42   
 51 #232 Ames Helzer          SO Univ of Dubuque         5:52.6    29:12.4   43   
 52  #41 Rane Nichols         SO Scott CC                5:55.2    29:25.5   44   
 53 #217 Joseph Blake         FR Southwestern CC         5:55.9    29:29.1   45   
 54 #223 Chasen Selsor        FR Southwestern CC         5:56.8    29:33.6   46   
 55  #38 Mugisha Fashinghoma  FR Scott CC                5:57.4    29:36.5   47   
 56 #242 Austin Yirkovsky     FR Univ of Dubuque         5:57.7    29:37.7        
 57 #184 Jared Wells          FR Coe College             5:57.8    29:38.3        
 58  #44 Tyler Powell         FR Scott CC                5:58.4    29:41.2   48   
 59 #194 Nick Romero          FR Loras College JV        5:58.7    29:43.0        
 60 #245 Adam Varnas             Loras Alumni            5:58.9    29:44.1   49   
 61  #39 Honore Lopaka        FR Scott CC                5:59.9    29:48.8   50   
 62 #222 Sean Schmitz         SO Southwestern CC         6:00.9    29:53.7   51   
 63 #201 Jose Aguilera        FR Niacc                   6:01.4    29:56.2   52   
 64 #199 Michael Uhl          SR Loras College JV        6:01.6    29:57.2        
 65 #198 Jake Till            FR Loras College JV        6:01.9    29:58.7        
 66 #240 Tyler Peugh          JR Univ of Dubuque         6:02.6    30:02.5        
 67  #40 Tanner McAnally      SO Scott CC                6:03.1    30:05.0   53   
 68 #212 John Finley          JR Rockford                6:03.3    30:05.8        
 69 #160 Paul Woizeschke      SO Buena Vista             6:03.7    30:07.8   54   
 70 #227 Keisuke Ohani           Unattached              6:03.8    30:08.5        
 71 #213 Nathaniel Hegge      FR Rockford                6:05.2    30:15.4        
 72 #187 Nate Goslin          FR Loras College JV        6:06.7    30:22.8        
 73 #231 Nicholas Dolan       SO Univ of Dubuque         6:07.0    30:24.0        
 74 #233 Isaac Hernandez      JR Univ of Dubuque         6:11.1    30:44.4        
 75 #171 Michael Cervantes    FR Clarke University       6:12.3    30:50.7   55   
 76 #154 Brady Hannula        SR Buena Vista             6:14.9    31:03.3   56   
 77 #228 Joel Avila           SO Univ of Dubuque         6:15.7    31:07.2        
 78 #206 Aaron Hardcastle     FR Niacc                   6:16.3    31:10.6   57   
 79 #172 Kyle Collins         SR Clarke University       6:17.9    31:18.5   58   
 80 #236 Tyler Miller         FR Univ of Dubuque         6:18.1    31:19.1        
 81 #239 Aaron Ofosu          SO Univ of Dubuque         6:18.4    31:21.0        
 82 #157 Tyler Larson         JR Buena Vista             6:18.7    31:22.4   59   
 83 #224 Noah Tucker          FR Southwestern CC         6:20.3    31:30.3   60   
 84 #249 Rob Howe                Loras Alumni            6:20.3    31:30.5   61   
 85  #43 Tristian Peterson    SO Scott CC                6:36.0    32:48.4   62   
 86 #246 Ryan Sheeran            Loras Alumni            6:43.3    33:24.6   63   
 87  #45 Jacob Schmelzer      SO Scott CC                6:43.6    33:25.9        
 88 #247 Matt Kane               Loras Alumni            6:56.3    34:29.4   64   
 89 #173 John Herber          SR Clarke University       7:00.9    34:52.3   65   
 90 #207 Alec Mulcahey        FR Niacc                   7:08.8    35:31.5        
 91  #37 Tyler Carlson        SO Scott CC                7:16.8    36:11.3        
 92 #215 Kenyai O'Neal        SR Rockford                7:56.5    39:28.3