Crucial Run Sinks Women's Basketball
Jan 21, 2016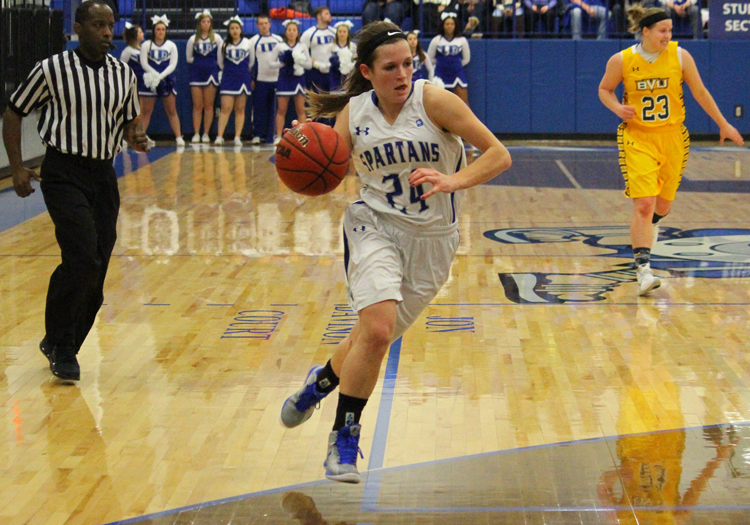 Jessica Kirkwood finished with 12 points in loss to Buena Vista University on Wednesday night.
BOX SCORE
DUBUQUE, Iowa - Senior guard Jessica Kirkwood scored a career-high 12 points, but a crucial 18-1 run by Buena Vista to end the first half provided the final margin of victory as the University of Dubuque women's basketball team fell 83-66 on Wednesday night.

After holding the Beavers (9-7, 3-2 Iowa Conference) to a paltry 13 points on 22.2% shooting in the first quarter, Buena Vista shot 14 of 21 (66.7%) in the second quarter en route to the 43-31 halftime advantage. UD (5-11, 0-5 Iowa Conference) held a slim five-point lead with 3:48 to go in the first half, but saw that quickly erased in an 18-1 offensive barrage.

With three points at halftime, Kirkwood was lights out in the second half to the tune of nine points on 3-for-5 shooting, including 2 of 3 from downtown. The senior spotted up from well beyond the arc and nearly kept UD in it with a big run to end the third. Kirkwood finished 4 of 7 from the floor with 12 points and one assist in 19 minutes off the bench.

The Beaver attack was limited to less than 35 percent from the floor in the second half, but saw their lead grow to as many as 23 points. An 11-0 run to end the third quarter, fueled by four points from Kirkwood, sliced the lead to 12 as Buena Vista quickly responded with a a 7-0 run of their own to put the game away in the fourth quarter.

In the end, the Spartans were outrebounded 54-29 by a lengthier Beaver team and attempted just 12 free throw shots to Buena Vista's 27 attempts.

Junior Emily Brinker posted a team-high 18 points on 7 of 15 shooting with five rebounds and three assists and guard Abbey Meyer totaled 15 points and four assists.

The Spartans saw their two-game winning streak against Buena Vista snapped as they dropped to 19-50 in the all-time series.

UD takes to the road to face Coe this Saturday, January 23 at 4:30 p.m. The Kohawks (11-5, 2-3 Iowa Conference) defeated Central, 76-54, on Wednesday night.