Despite Homer from Garst, Spartans Drop IIAC Tourney Opener
May 12, 2016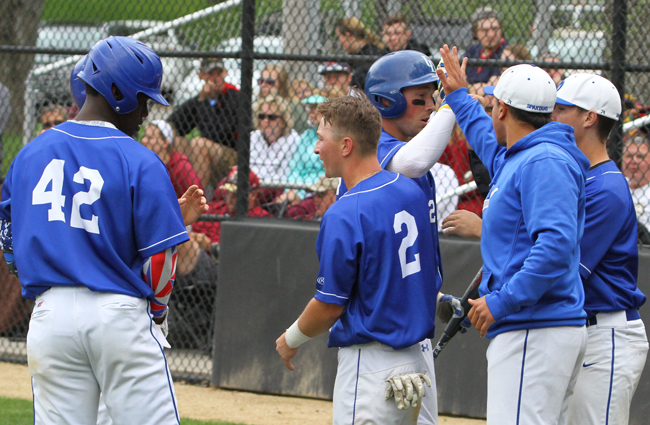 Dalton Garst gets a high five after a solo homerun by his Spartan teammates. Garst finished the afternoon with three hits in the 2016 Iowa Conference Tournament opening game. UD lost to Coe 5-9 and will face Simpson on Friday at 10:00 a.m.
CEDAR RAPIDS, Iowa - Despite three hits, including a two-run home run, from third baseman Dalton Garst, the University of Dubuque baseball team dropped their Iowa Conference tournament opener to Coe, 9-5, on Thursday afternoon. UD will face Simpson at 10:00 a.m. on Friday morning in the Cedar Rapids Kernels stadium in an elimination game.
Seeking their first 20-win season since 1995 on Coe's home field, the #5 seeded Spartans (19-21) dropped their second-straight to the #4 seeded Kohawks.

Garst added three runs and a team-high two RBIs while shortstop Ryan Karrick finished 3-for-4 in a 12-hit effort. UD's offense manufactured all five runs against Coe's ace, but couldn't capitalize on four Kohawk errors.

Tied 1-1 through the first two innings, the Kohawks (18-20) plated four unanswered runs, two each in the third and fourth, to secure a lead they wouldn't relinquish. A crucial throwing mistake to the wrong base with two outs in the bottom of the fourth, credited as a single, allowed Coe to add to their aforementioned lead.

Garst initiated the Spartan rally with a two-out, two-run homer in the top of the fifth. It fell short as Coe matched UD, 4-4, over the final five innings.

Coe's 1-2-3 hitters delivered after posting nine of Coe's 14 total hits.

UD starter Doug Van Dyke allowed seven runs (five earned) and 10 hits while striking out two in 4.2 innings. The Spartans dropped to 1-4 against Coe this season.

UD will face #6 seeded Simpson in an elimination game this Friday, May 12 at 10:00 a.m. in the Cedar Rapids Kernels stadium.