Emily Brinker with First Career All-IIAC Selection, Named to Second-Team
Mar 2, 2016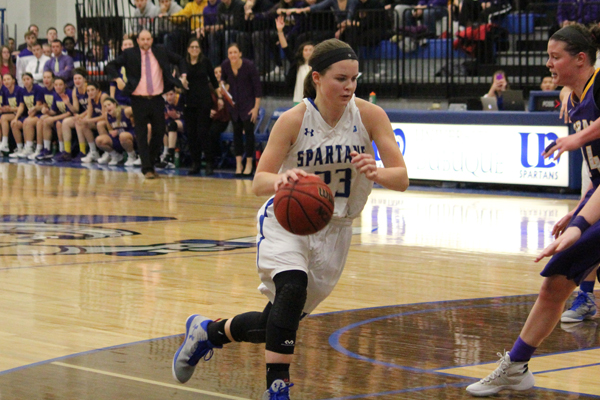 Junior forward Emily Brinker was named to the second team All-Iowa Conference team and scored IIAC-high 41 points in defeat to Loras on January 27.
Official IIAC release
DUBUQUE, Iowa – Junior forward Emily Brinker earned her first career All-Iowa Conference selection and was named to the second team as the lone University of Dubuque women's basketball representative on the All-Iowa Conference women's basketball team on Wednesday.

Brinker, who led the Spartans in scoring this season with 16.1 points per game, had her most memorable performance with a 41-point outburst and 14 rebounds on 17 of 28 shooting in overtime defeat to rival Loras on January 27. The junior was voted to the Hero Sports Division III women's basketball Hero of the Week for her performance.

Her 41 points were a career-high as she averaged 16.6 points per game during 14 Iowa Conference games, ranking her fourth in the league. The 2014-15 All-Iowa Conference Honorable Mention selection finished with six 20+ point games and three 10+ rebound games during IIAC play.
The Baraboo, Wis. native was also named to UD's Jon Davison Classic All-Tournament team in late December after helping the Spartans to the tournament championship with a 15.5 ppg and 10.5 rpg average over two games.

With Brinker's Second Team All-IIAC selection, the Spartans have had at least one player honored in each of the last 17 seasons.

Brinker majors in nursing.