Football Dominates #6 Wartburg on Homecoming
Oct 18, 2015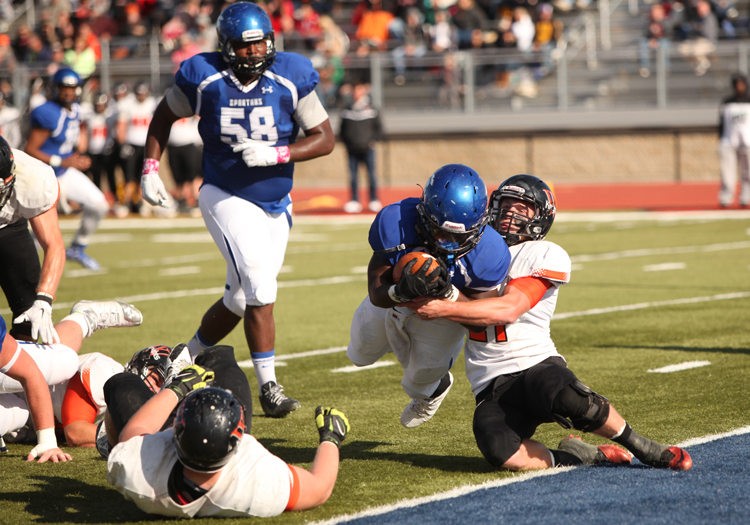 DUBUQUE, Iowa - The University of Dubuque football team faced it's third top-ranked team of the season and finally came away with a dominating victory in a 45-13 rout of #6-ranked Wartburg College Knights. The Knights entered the afternoon, a perfect 5-0, and 2-0 in the IIAC, the Spartans are the only undefeated league team left at a perfect 3-0. This is the Spartans 28th win overall against the Knights, (their first since 2006), and Coach Zweifel's first victory over the Knights in seven seasons at UD.
Maurece "Mo Jackson" Herrion ran through, ran over, and took the ground game on his back looking more like a flashback to Bo Jackson as he finished with four touchdowns on eight yards, seven yards, nine yards, and two yards to compile 31 carries for 140 yards. Dai-Von Vance-Jenkins carried the ball 10 times for 63 yards with his longest being a 14 yard gain.
Wartburg held their opponents to just 28 first downs entering the day, the Spartans rolled up 13 rushing and 11 passing for 24 in the victory. UD ended the afternoon with 475 yards of offense and held the Knights ground game to it's lowest of the season, 21 yards. The Spartan defense pressured the Knights quarterback Logan Schrader and sacked him five times for losses of 37 yards. Schrader will be seeing Malachi Ward in his nigtmares after being sacked three times for losses of 18 yards and seeing him stumble into the endzone for a touchdown after fumbling late in the fourth quarter.
Quarterback Rio Johnson completed 17-24 pass attempts for 280 yards, including the Spartans first touchdown of the day on a 32 yard pass to Chris Bagley in the first quarter. Bagley led all receivers with five catches for 137 yards. Dylan Schultz caught six passes for 99 yards. Curtis Prull was perfect on the day, kicking five extra points and a 36 yard field goal. Brayden Neuendorf kicked off eight times for 473 yards and two touchbacks for an average of 59.1 yards a kick.
Michael Joseph and Trevor Stauner both had six tackles while Durrell Micthell, Derek Schambow, and Dylan Hastings would all finish with five tackles. Larry Harleston pressured the backfield and had three quarterback hurries in the victory.
The Spartans will make journey across the state of Iowa to face the Buena Vista University Beavers in Storm Lake, Iowa (1-5 overall, 0-3 in IIAC) on Saturday, Oct. 24 before returning home in the Key City Clash with the Loras College Duhawks (3-3 overall, 2-1 in IIAC) on Halloween at 1:00 p.m.