Four Unanswered Goals Doom Women's Soccer Against the Duhawks
Oct 27, 2015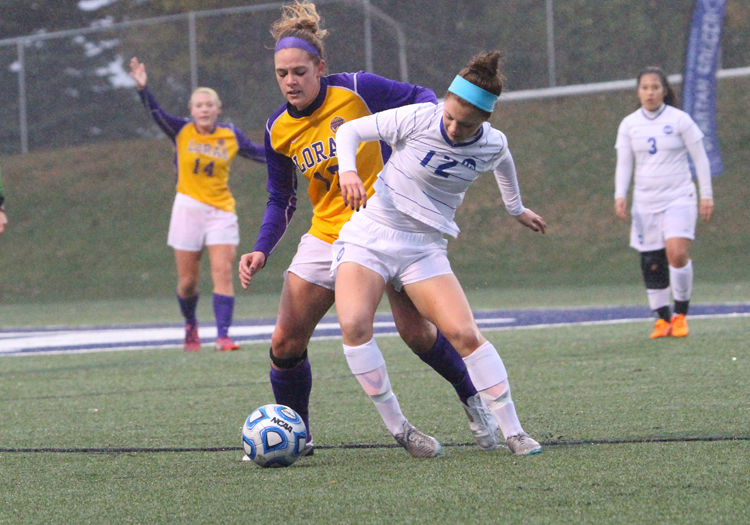 Freshman midfielder Lauren Cangelosi battles for possession in home finale against Loras
BOX SCORE
DUBUQUE, Iowa - Senior Lisa Rosas gave the University of Dubuque women's soccer team the 1-0 lead in the eighth minute, but couldn't overcome four unanswered goals by Loras in a 4-2 defeat in the Spartans' home finale on a rainy, cold Tuesday night.

The Spartans (10-6-2, 2-4-1 Iowa Conference) clinched the No. 6 and final seed for the upcoming Iowa Conference tournament and will face Loras at their place this Saturday, October 31 at 3:00 p.m.

Rosas notched her second goal of the season thanks to a header off of Katie Lynn's deflected shot off the goalie. UD's early goal didn't last for long as a pair of Duhawk goals in the 22nd and 25th minutes helped spoil UD's attempt at a second straight win in the series. Loras' Maddie Avery matched Rosas with a goal off a deflected save then scored her second and final goal of the game off a bending free kick from 30 yards out.

The Duhawks (10-5-2, 4-2-1 Iowa Conference) utilized a header off a free kick and another arcing shot in the 59th and 65th minutes to put the Spartans in a tough, 4-1 hole. Sophomore Kyleigh McLaughlin tried to kickstart the rally with a deep shot from 27 yards out on the right side at the 69-minute mark as the Spartans fell short in the end.

UD's Lynn, the Iowa Conference leading shot taker, was held to only three shots as the Spartans were outdone in the shot count, 18-10. Spartan goalkeeper Megan Moll tallied a season-high 10 saves in defeat.