Furious Rally Comes Up Short for Women's Basketball
Jan 30, 2016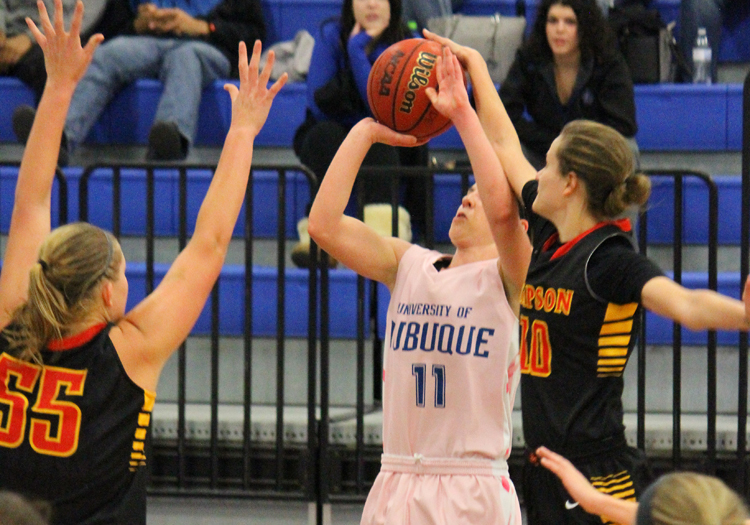 Kalyn Theill (#11) gets a shot off between Storm defenders. Cold shooting hampered the Spartans on Saturday in a 60-74 loss to Simpson.

DUBUQUE, Iowa - Despite trailing by 23 points in the third quarter, the University of Dubuque women's basketball team, led by Braanna Steen's 14 points and 11 rebounds, pulled to within five points of Simpson in the last period, but couldn't get over the hump in falling 74-60 on Saturday afternoon.

After shooting an ice cold 25 percent in the first half, the Spartans (6-13, 1-7 Iowa Conference) utilized three-straight, three-pointers by Molly Richardson and a traditional three-point play by Taylor Burdette on the back half of a 25-7 run that spanned eight minutes to pull within five midway through the fourth. Simpson (12-7, 5-3 Iowa Conference) responded with a 7-0 run of their own to push their lead back to 12 and scored their last 11 points on free throws to seal the deal.

UD improved its shooting to 36.6 percent in the second half, but finished just 31.5 percent over the course of the game. Steen's 14 points led a Spartan quartet of four players in double-digits that also included Burdette (career-high 11 points), Abbey Meyer (11 points), and Madison Boer (matched career-high 10 points).

Simpson also featured four, double-digit scorers led by a 20-point, 11-rebound performance by post Noreen Morrow. The Storm shot 45.5 percent in the first half and led at the break, 40-26.

After a career-high 41 points in the previous game, forward Emily Brinker totaled just two points, but got it done elsewhere with 13 rebounds and eight assists, both game-highs.

UD's lone transfer at semester, guard Kalyn Theill, made her home debut after entering the game in the third quarter and finished with one missed shot and two rebounds in eight minutes of play.

UD was swept by the Storm this season and dropped to 7-66 in the all-time series.

The Spartans enter the home stretch of the conference season when they travel to Buena Vista next Wednesday, February 3 at 6:00 p.m. The Beavers (11-8, 5-3 Iowa Conference) defeated Wartburg, 59-55, on Saturday afternoon.