Hernandez Provides Game-Winner in Physical Affair
Sep 1, 2015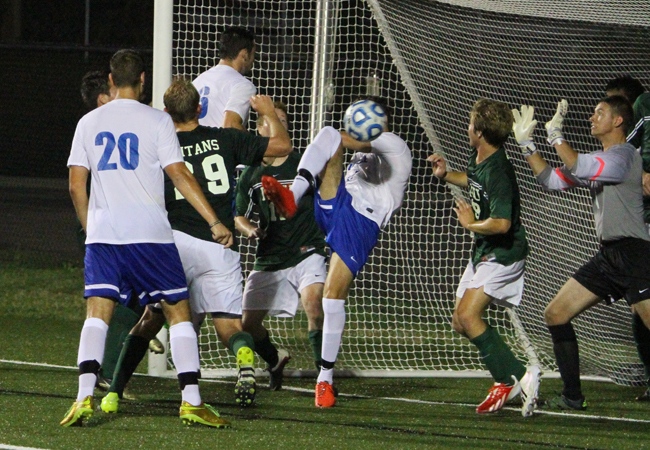 DUBUQUE, Iowa – After allowing an early second half goal, the University of Dubuque men's soccer team bounced back from a 1-0 deficit thanks to a Gonzalo Hernandez assist and game-winning goal to defeat Illinois Wesleyan, 2-1.
Hernandez's 14th career goal moved him into a tie for 9th on UD's all-time scoring list, but more importantly gave the Spartans (1-0) their second-straight, season-opening victory. The win certainly left a mark on both teams after five yellow cards were issued against the Titans (0-1) and one red card was handed out to the Spartans in addition to a combined 22 fouls. UD survived a late Titan attack after the red card left them a man down with 11 minutes to go in the game.
The physicality didn't faze junior midfielder Tom Murphy, who notched his first goal in the blue and white at the 51:15 mark of the second half. Murphy put home a careening ball off a Hernandez corner kick into the box. Hernandez followed with his game-winner off senior midfielder Billy Belmonte's arcing ball from the left side.

Hernandez and sophomore forward Leo Lenth each attempted a team-high four shots while senior goalkeeper Jose Resendiz, who relieved All-IIAC First Teamer Riley Jensen at the start of the second half, grabbed four saves. Resendiz was an anchor between the posts after facing a heavy attack from the Titans at the start of the second half.
UD overcame the physical play and outshot the Titans, 16-10, and held the advantage in corner kicks, 12-7, over the course of the game.

The Spartans head to St. Paul, Minn. to take on Hamline University on September 4 at 4:00 p.m. and Macalester College at 7:30 p.m.