Kohawks No Match for Men's Soccer in 3-0 Victory
Oct 24, 2015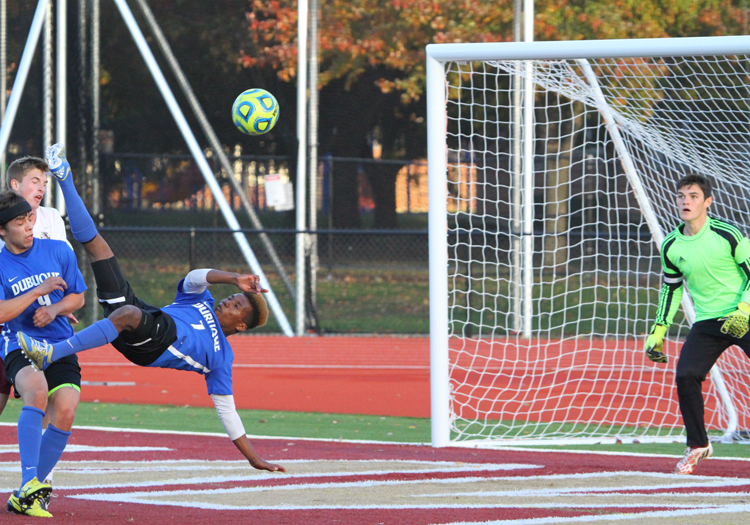 S‌ophomore forward Leo Lenth attempts a shot in 3-0 victory at Coe on Saturday afternoon.
BOX SCORE
CEDAR RAPIDS, Iowa - The University of Dubuque men's soccer team outshot Coe, 26-4, as Gonzalo Hernandez, Dani Morillo, and Skylar Showalter each scored in a 3-0 rout on Saturday afternoon.

The aforementioned trio each scored in the first half to hand Coe (5-11-1, 1-5 Iowa Conference) their third-straight conference loss of the season and set up a showdown for first-place with Loras this upcoming Tuesday. Meanwhile, Coe attempted just three shots and were limited to only one in the second half.

Hernandez's 14-minute tally came unassisted from 12 yards out for his Iowa Conference leading 13th goal of the season. The junior, a 2014 All-IIAC First Team selection, also leads the conference by a wide margin with 34 points as well. Morillo and Showalter followed Hernandez in the 28th and 42nd minutes, respectively, on rare assists from defender Danny Daniels and senior Joey Broms. Daniels, a sophomore, registered his first career assist while Broms dished out his first assist since 2012.

Overall, 24 Spartans saw the field including freshman Ryan Weber, who was the lone substitute to appear in his first game of the year.

UD's senior goalkeeper Riley Jensen made two saves in his fourth shutout of the season and improved to 10-4-1./
The Spartans (11-4-1, 5-1 Iowa Conference) won their third straight against Coe to improve to 12-3-1 in the all-time series.

Rivalry week against Loras begins next week as UD faces their rival on Tuesday, October 24 at 7:30 p.m. at the friendly confines of Oyen Field. Loras (11-4-1, 6-0 Iowa Conference) has never lost to the Spartans in 17 meetings, but has came away with a pair of one-goal victories in 2014.