Lynn and McLaughlin Propel Women's Soccer to Season Opening Rout
Sep 1, 2015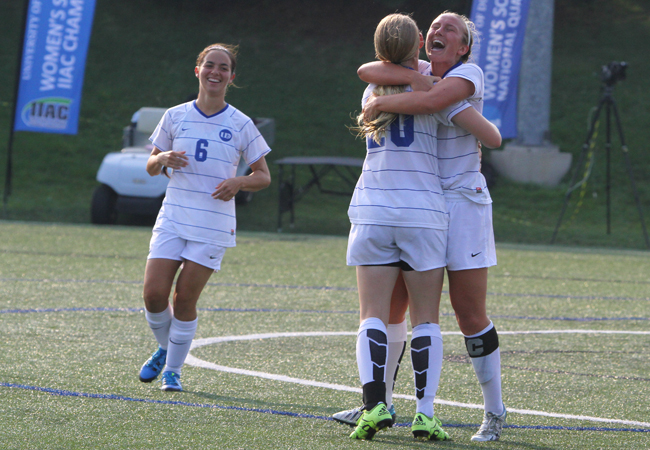 DUBUQUE, Iowa – Senior Katie Lynn and sophomore Kylie McLaughlin each scored two goals to defeat Carthage, 4-0, and gave the University of Dubuque women's soccer team its third straight, season-opening victory.
Lynn started things off with a goal from the top of the 18-yard box at the 31:50 mark in the first half to give UD the 1-0 lead off a slick assist from transfer, junior Ryann Abeyta. The Spartans (1-0) and Lady Reds continued to trade barbs throughout the first half as UD went into halftime with the 1-0 lead despite a 6-4 deficit in the shot count.
McLaughlin came out of halftime on a mission and scored twice within a 10-minute span on a pair of unassisted goals from the right side to push the lead to 3-0 at the 55:13 mark. Lynn put the icing on the cake at the 59:27 mark and sealed the deal off senior defender Kim Trinco's assist.

McLaughlin tied a game-high with four shots, while Lynn made both of her attempts. Newly minted UD freshman goalkeeper, Paige Dykstra, finished with a game-high three saves.

With two goals tonight, Lynn pushes her career goal count to 20 and inches ever closer to the 25 goals needed to enter UD's all-time Top-10 goal scoring list. Lynn helped the Spartans avenge a 1-0 setback in overtime to the Lady Reds (0-1) on the road a year ago.
The Spartans head to the Chelsea Lloyd Memorial Tourney hosted by Aurora University in Aurora, Ill. for a September 4 contest against Aurora and a September 6 bout versus Adrian College (Mich.).