Men's Basketball Alone at the Top of IIAC
Jan 21, 2016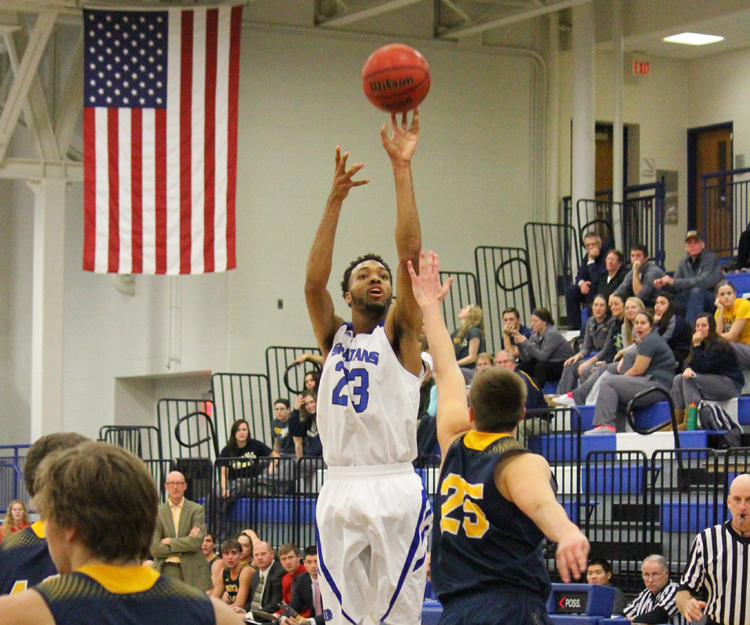 Andre Norris dropped 33 points in 32 minutes against the Buena Vista Beavers on Wednesday night to keep UD at top of IIAC.
DUBUQUE, Iowa - The University of Dubuque men's basketball exploded in the second half on Wednesday night to out score the visiting Buena Vista University Beavers 56-27 to capture the IIAC contest 100-78. The victory left the Spartans alone at the top with a 4-1 IIAC record and an 11-5 overall record.
Buena Vista rallied in the opening half of play to extend their halftime lead to 51-44 after shooting 57.6% from the field. The two teams combined for 14 three point shots as both teams shot over 50% from the long ball. UD responded in the second half by sinking 21-34 attempts from the field and sinking 5-8 three point attempts to finish with 56 points. BV missed all seven attempts from the three point area in the second half and would cool down to 35.3% from the field.

"That was a tale of two halves," said Head Coach Robbie Sieverding. "BV played great in the first half and really got going in transition and Nick Clark was phenomenal in the first half. We put together our best twenty minutes in the second half and played great!"
Andre Norris warmed up in the final half of action with 22 points to finish the night as the leading scorer with 33 points. Kain Arthofer added 14 points as Jake Weber and Austin Moutry both finished the night with 12 points and Zach Branch added 10 points. The Spartans were out rebounded 30-28 with Weber grabbing eight boards.

"Andre showed how special of a player he is and Jake Weber was great as well," noted Head Coach Robbie Sieverding. "Our bench was also outstanding with Zach, Austin and Deonte all playing some of their best best games this season."
Saturday the Spartans travel to Cedar Rapids, Iowa to continue their Iowa Conference season on January 23 with tip-off slated for 6:30 p.m. UD will return home on Wednesday, January 27 to face the Loras College Duhawks live on KCRG 9.2 in Cedar Rapids.