Men's Basketball Cruise to 83-47 Victory Over Norse
Jan 9, 2016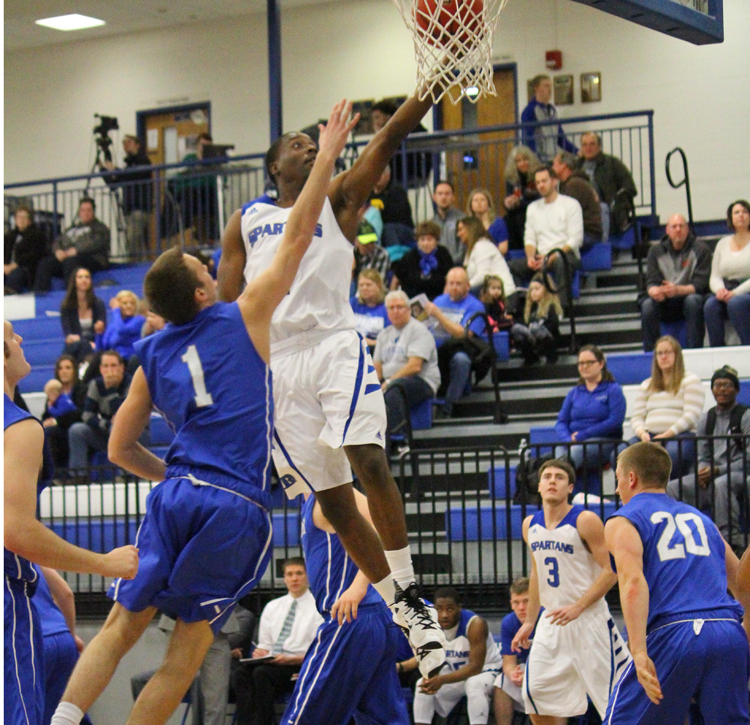 Fred Calvert (#1 white) sliced the Norse defense to score his lone basket in the Spartans victory over the Luther norse on Saturday.
Dubuque, Iowa - The University of Dubuque men's basketball team jumped out to a quick lead on Saturday and never let the Luther College Norse into the game as they cruised to a dominating 83-47 victory to improve to 2-0 in the Iowa Conference.
The cold shooting Norse struggled from the field sinking just 16 of 64 attempts (32%) while the host Spartans finished the afternoon shooting over 55% from the field, knocking down 30-54 attempts. The Spartans cleared the bench and eighteen made an appearance in the victory with thirteen making their mark in the scoring column.
Andre Norris led all scorers with 25 points and 14 rebounds in 29 minutes of play. Zach Branch was the only other double digit scorer with 11 points after sinking a pair of three point attempts and making all five of his free throw attempts. The Spartans scoring was spread among the team as the starters would end the night with 43 of the teams 83 points. UD owned the paint and scored 34 points inside. The Norse owned one stat, they led in second chance points 12-9 over the Spartans.

"This might have been our best 40 minutes of the season," Head Coach Robbie Sieverding said. "We really guarded their initial action well and our team defense was great throughout. Andre played really well and got us going in the first half and it was good to see Zach shoot the ball the well and play his best game in a spartan uniform. As a team we did some good things on the offensive end and moved the ball well. This week we will get challenged on the road with a very good Central team. They have been the most consistent team in our league this season and we will need to play well in order to win on the road this week."
The schedule doesn't get any easier for the Spartans as they hit the road for the next two league games. On Wednesday, January 13, UD will travel to Pella, Iowa to face the Central College Dutch (10-3 overall, 1-1 in IIAC). Saturday, January 16, UD will return to Central Iowa when they face the Simpson College Storm (8-5 overall, 1-1 in IIAC) in Indianola.