Men's Basketball Downed by 7th-ranked Elmhurst
Dec 12, 2015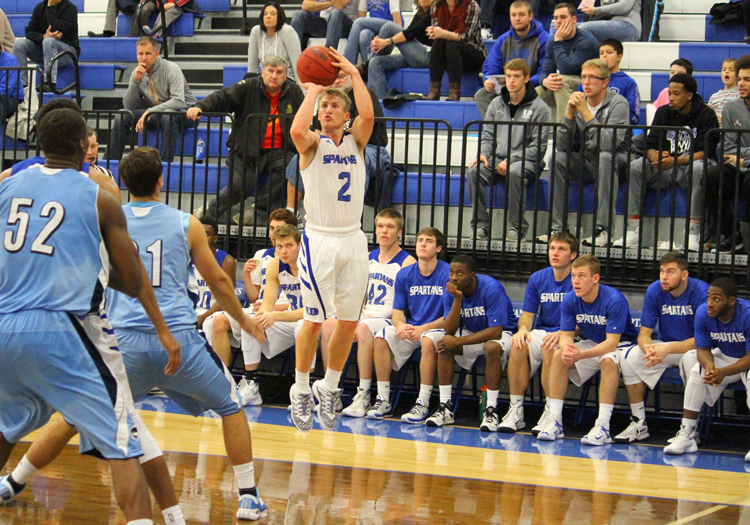 Senior Alex Vogel (#2) connects on the three point attempt in front of the Spartans bench, he would finish with 10 points.
DUBUQUE, Iowa - The University of Dubuque men's basketball faced #7-ranked Elmhurst College Buejays on Saturday and kept the game within double digits for the better part of the game. The Bluejays would extend the lead late and captured the victory over the Spartans 76-64.
The Spartans trailed early and never captured a lead in the loss. UD fell behind by as much as 17 points, but would rally back and slice the deficit to single digit for the better part of the contest. Elmhurst jumped out to a first half lead after shooting nearly 50% from the field (17-35) from the field. The Bluejays would turn the ball over just four times while forcing the host Spartans into committing 11. They would make the most of the turnovers by scoring 14 points off UD's misfortunes on the court. Both teams would struggle from the free throw line after finishing the night shooting just above 70%.
UD finished with three Spartans in double digit scoring, led by 2015 IIAC MVP, Andre Norris who had 17 points and 16 rebounds. He has led the Spartans in scoring and in rebounding in 7-8 games this season. Kain Arthofer sank 5-6 free throws to finish with 14 points and Alex Vogel added 10 points after sinking 3-6 shot attempts. The Spartans fall to 4-4 overall and will travel to play at North Park University on Saturday, Dec. 19 at 7:00 p.m. UD will return home to host the Jon Davison Holiday Classic on Dec, 29 and 30 in Stoltz Sports Center.
Jon Davison Holiday Classic Men's Basketball Schedule:
December 29
Mount Mercy University vs. Simpson College at 3:00 p.m.
University of Dubuque vs. Illinois Institute of Technology at 7:00 p.m.

December 30
Illinois Institute of Technology vs. Simpson College at 3:00 p.m.
University of Dubuque vs. Mount Mercy University at 7:00 p.m.