Men's Basketball Face Tough Road Loss
Jan 23, 2016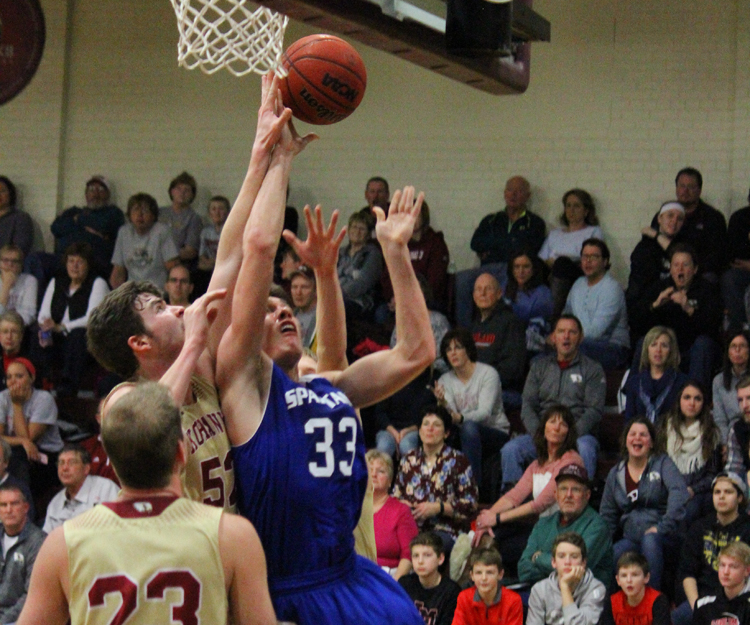 The Spartans suffered just their second loss of the Iowa Conference on Saturday in a physical match-up with Coe College on Saturday.
CEDAR RAPIDS, Iowa - The University of Dubuque men's basketball team entered Saturday night with a chance to extend their Iowa Conference lead, but the Coe College Kohawks captured the the victory 78-51. If games were won by pre-game activities, the Spartans certainly captured the win with spectacular dunks in warm-ups. Unfortunately, that enthusiasm would slip away once the game began.
The Spartans led by as much as 10 points in the opening half of play, but it was the Kohawks who led at halftime, 28-26. UD led in the game for 19:03 while the Kohawks led for 19:49 and game was knotted for 1:08. The Kohawks captured their final lead at 6:08 left in the game and never relinquished the lead as they extended it to as much as 14 points in the late stages.
The Kohawks dominated the inside game by scoring 26 points in the paint while holding UD to 14 points. They also held the edge in rebounding 35-27. Jake Weber led the rebounding with eight boards. Offensively, once agin the leader in scoring was Andre Norris who had a quiet 19 points. Kain Arthofer and Jacob Mohlis would both finish with 11 points in the loss.
The Spartans shot 40% from the field (20-50 attempts from the field) and a cold 4-15 from beyond the three point arc (26.7%). The Spartans had a chance to cut the lead to three points in the final minutes, but missed opportunities at the free throw line and capped off the night at the charity stripe 14-19, 73.7%.
UD will return to action on Wednesday, Jan. 27 at home on Jon Davison Court in Stoltz Sports Center against the Loras College Duhawks at 8:00 p.m. The women's and men's games against Loras College will be broadcast live on KCRG 9.2 in Cedar Rapids, Iowa.