Men's Basketball Improve to 9-2 in IIAC with 82-75 Victory
Feb 10, 2016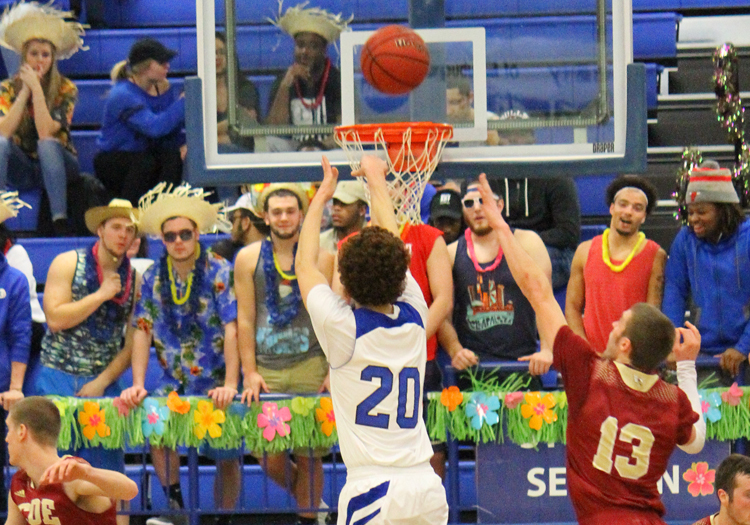 The Spartans Kain Arthofer finished with 15 points in Wednesday's victory over Coe 82-75. The Legion dressed in
Hawaiian garb and braved the single digit weather to cheer for their Spartans in the warmth of Stoltz Sports Center.
DUBUQUE, Iowa - The Spartan men's basketball team kept a two game lead over second place with three regular season games remaining in the 2016 run for the Iowa Intercollegiate Athletic Conference title for coach Robbie Sieverding. Wednesday night the Spartans avenged an earlier season loss to the Coe College Kohawks and captured the home win 82-75.
The two teams stayed within striking distance of one another with the largest lead of the night (12 points) belonging to the Spartans late in the game. Matt Vonderhaar led the barrage of three pointers for the Kohawks and sank 4-8 to finish with a game high 24 points as the Coe finished the night sinking 11 shots from the outside. A pair of Spartans ended the evening with 15 points, Kain Arthofer and Andre Norris led UD. Jacob Mohlis went 3-4 from the three point arc for 13 points and Alex Vogel added 11 points.

"Tonight was a battle from start to finish and we weren't as sharp as the past couple games, but Coe had something to do with that," said Head Coach Robbie Sieverding. "It was great to see Alex Vogel step up and we also had key shots from others. Austin and Deonte off the bench gave us a spark and it was great to see four players in double figures."
Norris battled inside and grabbed 10 rebounds to help the Spartans out rebound the Kohawks 45-33. Other scores around the Iowa Conference included: Wartburg over Loras 73-70, Simpson over Luther 64-61, and Buena Vista over Central 94-75. The Spartans travel to meet Luther College on Saturday, Feb. 13 in Decorah, Iowa at 4:00 p.m. UD will continue the road schedule on Wednesday, Feb. 17 as they face the Wartburg College Knights in Waverly, Iowa at 8:00 p.m. before finishing the regular season on Saturday, Feb. 20 at home against the Central College Dutch.

"We will take a look at film and see what we can clean up before Luther on Saturday," added Coach Sieverding. "Luther is a much better team than when we played them earlier in the year. The next two days of preparation will be very important."
Iowa Conference standings after Wednesday night:
1. DBQ 9-2 in IIAC, 16-6 overall
2. SIM 7-4 in IIAC, 14-8 overall
3. WAR 6-5 in IIAC, 13-9 overall
LOR 6-5 in IIAC, 11-11 overall
5. CEN 5-6 in IIAC, 14-8 overall
6. LUT 4-7 in IIAC, 5-17 overall
BVU 4-7 in IIAC, 9-13 overall
8. COE 3-8 in IIAC, 8-14 overall