Men's Basketball Kick off 2015-16 With a 75-74 Home Victory
Nov 16, 2015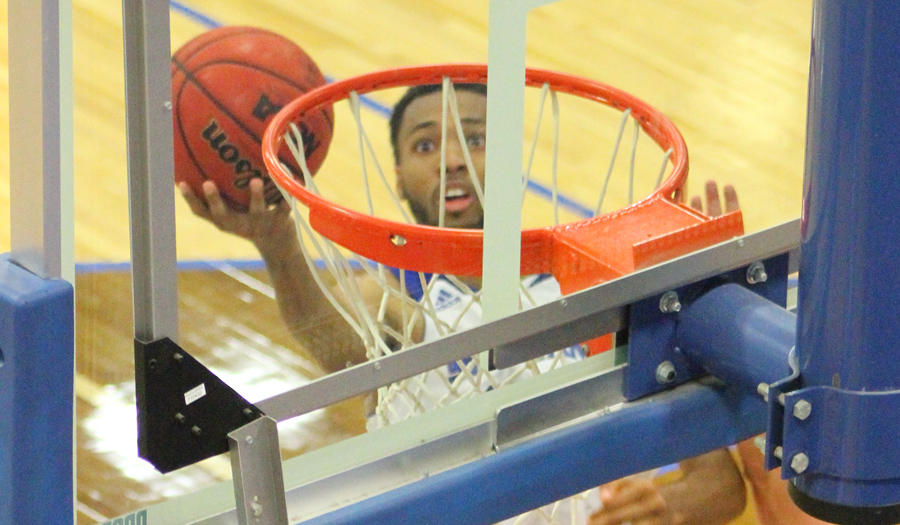 Senior and returning IIAC MVP, Andre Norris, finished the night with 19 points in the Spartans season opening win against UW-Platteville 75-74.
DUBUQUE, Iowa - The University of Dubuque tipped off their 2015-16 season on Monday night against the UW-Platteville Pioneers and captured the hard fought victory 75-74. The Spartans jumped out to an early lead and extended into a double digit lead before a late UW-P first half rally sliced the UD lead to 42-35. Many new faces made their Spartan official appearance on the renovated Jon Davison Court in Stoltz Sports Center.
Fans will notice the starting line-up returns last year's leading scorer forward Andre Norris, surrounded by forward Jake Weber, guards Alex Vogel, Jacob Mohlis, and Kain Arthofer. Weber made the best of his first start finishing the night with 19 points, 12 rebounds and four assists. Mohlis added 16 points after connecting on 3-5 three point attempts. UD finished the night shooting 50% from the field (15-30 attempts).
The Spartans kept the game close after committing 15 turnovers and missing key free throws down the stretch (13-22, 59.1%). The Spartans were outscored in the paint 34-24, but scored 13 points in second chance attempts. The Pioneers bench would add three points in the first half and be held scoreless the final 20 minutes of action. The Spartans will travel to compete in the Illinois College Classic this weekend. Friday night the Spartans will face MacMurray at 5:30 p.m. before playing the host Blueboys on Saturday at 4:00 p.m.

"Really good team win against a solid Platteville team," said Head Coach Rob Sieverding. "Jake Weber played really well last night and Jake Mohlis made some big free throws down the stretch. We can learn a lot from watching this film and we can definitely be better on the defensive end, but happy for our guys. We had another great crowd for the first game in the new arena and loved seeing all those students in the new student section."