Men's Basketball Overcome by Blue Devils in Second Half
Dec 8, 2015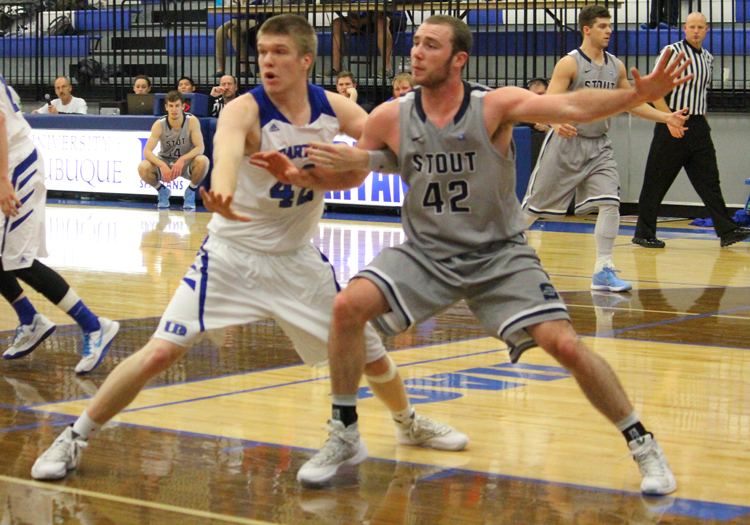 ‌
The battle inside of the 42's as UD's Lucas Daniels (left) fights for space over UW-Stout's John Lahti in Spartans loss 74-82.
DUBUQUE, Iowa - The University of Dubuque men's basketball lost the lead with 13:00 minutes left in second half and were never able to re-capture it in a 74-82 loss at home to the UW-Stout Blue Devils. UD led for 22:44 and game was tied six times for 4:27.
The Spartans led at halftime 36-35 after connecting on 5-10 three point attempts and a strong shooting performance by Andre Norris who dropped in 18 points in the opening half, missing just one shot from the field (7-8). He would lead all scorers at the end of the night with 34 points, 12 rebounds. Norris has led scoring in all seven games this season and is averaging 27.3 points and 13 rebounds a game. Jacob Mohlis hit 5-11 three point attempts and ended with 16 points and Deonte Newsome had 12 points and three steals. UD's bench was out scored 5-38
UD sank 27-67 attempts from the field (40.3%), 10-27 from the three point area (37%), and 10-14 at the free throw line (71.4%). The Spartans were out rebounded 27-40 and the Blue Devils shot nearly 60% in the second half.
The Spartans host Elmhurst on Saturday afternoon at 4:00 p.m. on Jon Davison Court in Stoltz Sports Center.