Men's Lacrosse Host Home Opener
Mar 2, 2016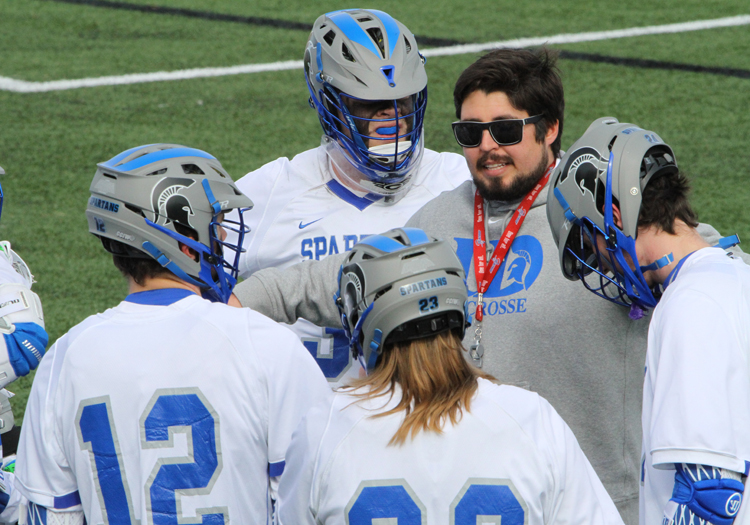 Men's lacrosse opened their 2016 season on Oyen Field on Wednesday, the Spartans lost a heart breaker 8-9.
DUBUQUE, Iowa - New men's lacrosse coach Kasey Burst had hoped to open the 2016 season with a victory at home on Oyen Field, but it was the Clarke University Crusaders who rallied in the third quarter to take their first lead and held on for the 9-8 win over the Spartans on Wednesday.
The chilly Midwest temperatures didn't deter the many fans on hand to watch the exciting opener for both teams. UD scored first and held a slim 4-3 lead over Clarke. The Spartans would like to re-do the third quarter after the Crusaders out scored them 5-1. The Spartans used a late game rally to close within a goal as time ran out with the Spartans in front of the net. Clarke finished the day with 45 shots as UD had 27. The two squads each ended the afternoon with 39 ground balls and the Spartans turned the ball over 31 times while forcing the Crusaders into commiting 30 turnovers. UD trailed in faceoffs 6-14, but owned the clears with 16.
Tyson Svoboda and Julius Michael would both score a pair of goals as Joshua Berey-Wingate, Joseph Furstahl, Jacob Olsen, and Joshua Cramer would add a goal in the loss. Berey-Wingate would win 6-16 faceoff attempts and grab seven ground balls. Collin Perry led with a team high eight ground balls.
The Spartans (0-1) will continue their season on Saturday when they travel to Beloit, Wis. to face Beloit College at 4:00 p.m.