Men's Soccer Let Slip Early Lead in Defeat to Duhawks
Oct 27, 2015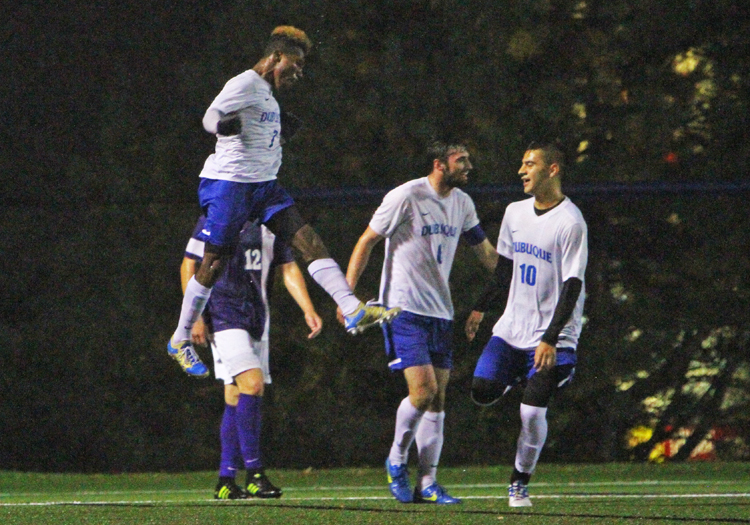 Sophomore forward Leo Lenth celebrates his fifth goal of the season in the 28th minute vs. Loras
BOX SCORE
DUBUQUE, Iowa - Forward Leo Lenth found the back of the net in the 28th minute to take the early lead, but the University of Dubuque men's soccer team surrendered a pair of goals in the next 12 minutes and fell to Loras, 2-1, to lose their shot at their first Iowa Conference regular season title since 2011 on a cold and rainy Tuesday night.

So close, but yet so far as the Spartans (11-5-1, 5-2 Iowa Conference) dropped to the No. 2 seed in the Iowa Conference with the loss as Loras took home the IIAC title as both will host a semifinal match next Wednesday against an opponent to be determined.

Lenth put UD in position early after his header gave the Spartans a 1-0 lead off a deflected save from a Gonzalo Hernandez shot. It didn't last long as the Duhawks (12-4-1, 7-0 Iowa Conference) countered with an 18-yard conversion over the outstretched hands of UD goalkeeper Riley Jensen in the 29th minute.

The score held true until an attempt to clear the ball inside the goalie box went straight into the waiting leg of the Duhawks as they scored the game-winning goal at the 40-minute mark. UD gave up a majority of possession to the Duhawks throughout the night and were outshot, 20-9. The Spartans missed out on a pair of last-ditch efforts as a Tom Murphy shot went high in the 88th minute and freshman Skylar Showalter experienced the same fate with a shot that sailed high in the 90th.

Jensen came away with six saves in the loss and senior Billy Belmonte launched a team-high three shots. Hernandez, the Iowa Conference leader in shot per game at 3.43, was held to one shot (on goal) throughout the night.

UD has not won in 18 meetings against the Duhawks, but has come close with a with a trio of one-goal defeats in the last three meetings.