Men's Soccer Spreads the Wealth in 5-1 Rout of Central
Oct 11, 2015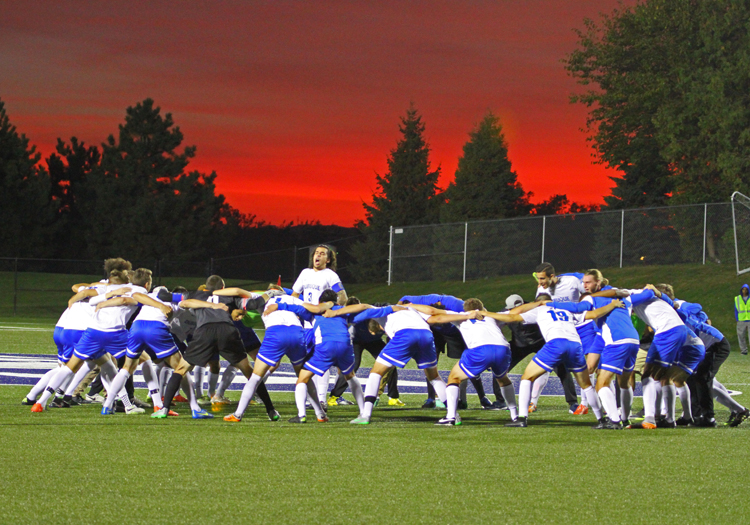 Senior Jake Fahrenkrug (3) leads Spartans pre-game ritual.
BOX SCORE
DUBUQUE, Iowa - The Iowa Conference's leading goal scorer, Gonzalo Hernandez, scored once and assisted on two others as five different Spartans found the back of the net in the University of Dubuque men's soccer team's rout of Central, 5-1, on Saturday night.

Hernandez and Co. sprinted out to a 3-0 lead over the Dutch (4-9, 1-2 Iowa Conference) within the first 21 minutes to put the game out of reach early on. Hernandez scored off a bending free kick from 25+ yards out in the seventh minute then proceeded to assist on both Tom Murphy's 18th minute goal from 27 yards out over the outstretched arm of the Dutch goalie and Billy Belmonte's shot from 27 yards out on the left side. Belmonte, a senior, notched his first goal of the season and sixth of his career.

The Spartans (9-2-1, 3-0 Iowa Conference) were relentless from the get-go and put 15 of their 17 shots on goal compared to seven and five for the Dutch.

A pair of freshmen in Malcolm Phillips and Skylar Showalter each scored their third goal of the season and extended the already secure Spartan lead with goals in the 37th and 72nd minutes, respectively. Both goals were from 15 yards out on the right side with Phillips dishing out his third assist on Showalter's score.

Phillips led the team with five shots, all on goal. Defensively, seniors Riley Jensen and Jose Resendiz each played one half in goal, registering two saves each. Resendiz allowed Central's lone goal in the 82nd minute from 10 yards out.

Twenty-three Spartans saw action in a total team effort from top to bottom to give UD its sixth straight victory. The Spartans now own the best record in the Iowa Conference (9-2-1) and are 3-0 in conference play for the first time since 2010 when they won the regular season title (7-1).

The Spartans upped their record to 7-9-1 all-time against Central and have won seven of the last eight in the series.

UD will travel to Luther (7-3-3, 2-0-1 Iowa Conference) this Wednesday, October 14 at 7:00 p.m. Luther tied with Simpson, 1-1, in double overtime on Saturday night.