Men's Soccer's Hosts Advanced Players Camp on March 5th
Jan 28, 2016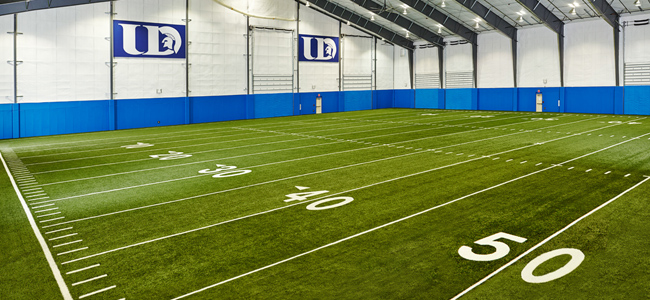 Players will receive instruction inside the state-of-the-art Veterans Memorial Training Center on March 5.
2016 Advanced Players Winter Camp Signup and Waiver Forms2016 Advanced Players Winter Camp Signup and Waiver Forms
DUBUQUE, Iowa - The University of Dubuque men's soccer team will host high school aged soccer players for their one-day, indoor Advanced Players Winter Camp in the state-of-the-art Veterans Memorial Training Center on March 5.

The camp is geared towards premier high school junior and seniors that have an interest in the University of dubuque and want to participate in a high level program. Players will experience the Veterans Memorial Center that features Mondo turf and provides a competitive environment for campers and current players alike. Other features of the camp include campus tour, lunch, and meeting with both a professor and admissions office representative.

Cost of the camp is $60 and will include a camp t-shirt.

CAMP SCHEDULE (Saturday, March 5th)
9:00 a.m. - Check in at Myers Teaching and Administrative (MTAC) Building
10:00 a.m. - University welcome
10:30 a.m. - Meeting with professor
11:00 a.m. - Campus Tour
12:15 p.m. - Lunch
1:00 p.m. - Meeting with Admissions Office Representative
2:00 p.m. - Camp in the Veterans Memorial Training Center
5:00 p.m. - Camp ends

Leading the instruction will be NSCAA and USSF licensed UD coaches in Head Coach Brad Johnson and Assistant Coach Viktor Bergstrand.

-Coach Johnson has guided the Spartans to a Top-3 finish in the Iowa Conference in five of the last seven seasons, including the Spartans first appearance in the Iowa Conference tournament title game last season. Johnson is a former Iowa Conference men's soccer MVP at Loras and graduated from UD with masters in business administration.
-Coach Bergstrand is the associate head men's coach and the assistant women's coach and a former All-American goalkeeper at Embry-Riddle Aeronautical University and also graduated from UD with a Masters in Business Administration. Bergstrand has coached a pair of goalkeepers, one male and one female, to First Team All-Iowa Conference honors in the last two seasons.