Men's Track Runner-Up at 2016 Solomon Butler Classic
Jan 16, 2016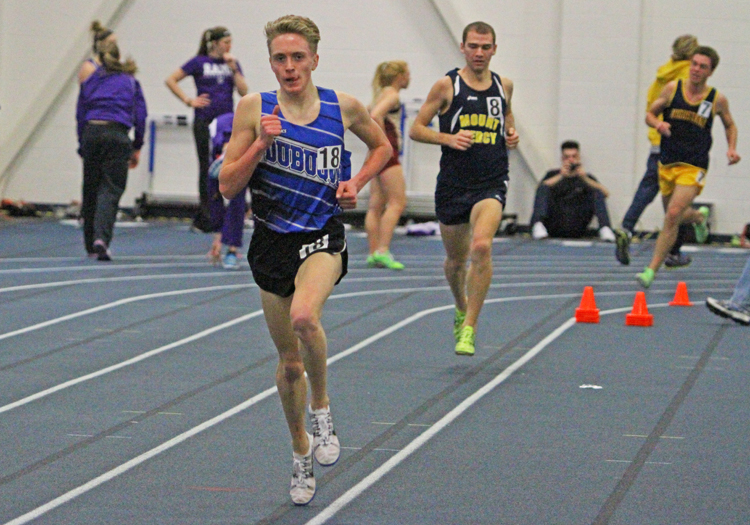 Alec Bass stretched out his lead in the men's 3000 meter run after winning in a time of 8:58.37.
2016 Solomon Butler Classic Men's Results
2016 Solomon Butler Classic Women's Results
DUBUQUE, Iowa – Sophomore distance standout Alec Bass won the 3,000 meter run (8:58.37) and freshman Charles Jackson III took home the triple jump title (45-10) to lead the University of Dubuque men's track team to a second-place finish in the 2016 UD Solomon Butler Classic on Saturday afternoon.

Bass posted the second-fastest time while Jackson opened his career with the sixth-farthest leap in UD history as UD racked up 109 points. The Spartans were the highest IIAC finisher and beat out both Loras (47.5) and Coe (45). Augustana (Ill.) won the team title with 150.5 points in the 11-team field.

UD posted six other Top-3 finishes, including a trio of runner-up placewinners led by Jeremy Lawson in the high jump (6-2.75), weight thrower Alex Link (53-9.25), and the quartet of Blake Worth, Marcus Weathers Jr., Jamey Foster, and Colby Rattenborg in the 4x200m relay (1:32.29).

Weathers had a busy day with a third-place showing in the 55m (6.63) and teamed up with Worth in an eight-place place finish in the 4x400m relay.

Jackson wasn't the only Spartan freshmen to impress as Kortez Pickett finished third in the long jump and Blaze Murfin placed sixth in the shot put (46-3.25) and third in the weight throw (52-9.5).

The Spartans continue their 2016 indoor campaign when they head to the Monmouth Midwest Invite next Saturday, January 23 at 11:00 a.m.
Men (UD Top Finisher)
55m – 3rd (6.63) Marcus Weathers Jr. (Jr.)
400m – 13th (53.11) Aaron Ofosu (So.)
600m – 9th (1:31.62) Andre Dunlap (Fr.)
Mile – 8th (4:35.22) Payton Nevills (Sr.)
3000m – 1st (8:58.37) Alec Bass (So.)
55h – 8th (8.57) Clayton Gray (So.)
4x200m relay – 2nd (1:32.29) Weathers Jr., Foster, Rattenborg, Worth
4x400m relay – 8th (3:35.44) Worth, Weathers Jr., Mentzer, Ofosu
4x800m relay – None
High Jump – 2nd (6-2.75) Jeremy Lawson (Jr.)
Pole Vault – 3rd (13-11.25) Nicholas Kazmierczak (Jr.)
Long Jump – 3rd (22-2.25) Kortez Pickett (Fr.)
Triple Jump – 1st (45-10) Charles Jackson III (Fr.)
Shot Put – 6th (46-3.25) Blaze Murfin (Fr.)
Weight Throw – 2nd (53-9.25) Alex Link (So.)

Team Score (11 teams)
1st – Augustana (Ill.) 150.5 points
2nd – UD 109
3rd – Monmouth (Ill.) 75