Missed Opportunities Doom Women's Soccer in 2-0 Defeat
Oct 10, 2015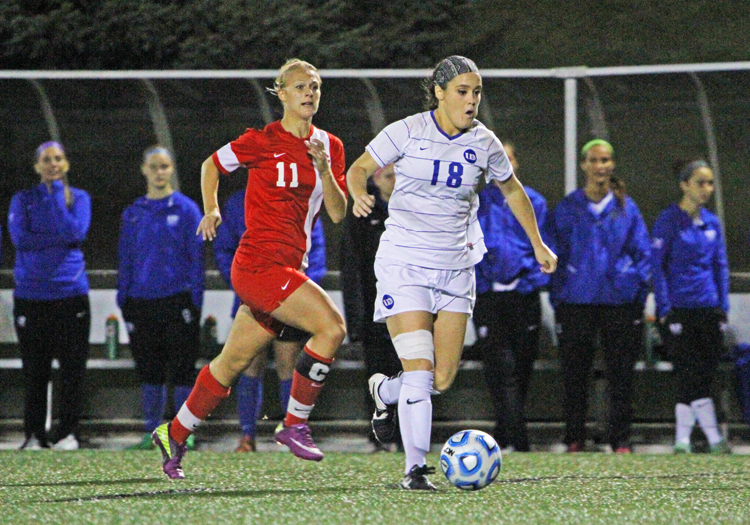 Senior Katie Lynn looks to score against Central.
BOX SCORE
DUBUQUE, Iowa - The University of Dubuque women's soccer team outshot Central College, 15-10, including 11-6 in shots on goal, but fall victim to a 2-0 defeat on Saturday afternoon.

Senior Katie Lynn and sophomore Kyleigh McLaughlin led the Spartans (9-3-1, 1-2 Iowa Conference) with five and three shots on goal, respectively, but couldn't convert. Opportunities were aplenty as UD's best scoring punch launched shot after shot right into the waiting arms of Central's goalie, Sydney Lunardi. The Dutch goalie totaled 11 saves with none bigger than her one-handed deflection off Lynn's shot out of mid-air towards the end of the second half to keep it scoreless.
The Spartan defense caved two minutes later and allowed Central (8-3-1, 2-0-1 Iowa Conference) to take the 1-0 lead off a defected save set up by a quick tap-in corner kick. UD's 1-0 deficit would hold true until the 76th minute when Central struck again from the left side inside the 18-yard box to provide the final score of the night.

All-in-all 11 of the Spartans 15 shots were on goal with Lynn attempting a team-high seven shots. UD goalkeeper Paige Dykstra saved four shots in defeat as the Spartans saw their three-game winning streak snapped.

UD dropped to 9-3-4 all-time against Central as the Dutch avenged a loss in a penalty kick shootout in the 2014 Iowa Conference Tournament title game at the hands of the Spartans.

The Spartans head to nationally ranked Luther College (11-1, 3-0 Iowa Conference) this Wednesday, October 14 at 5:00 p.m. Luther defeated Simpson, 2-0, on Saturday night for their 10th straight win.