Norris Lead Spartans to Win "Live" on KCRG 9.2
Jan 27, 2016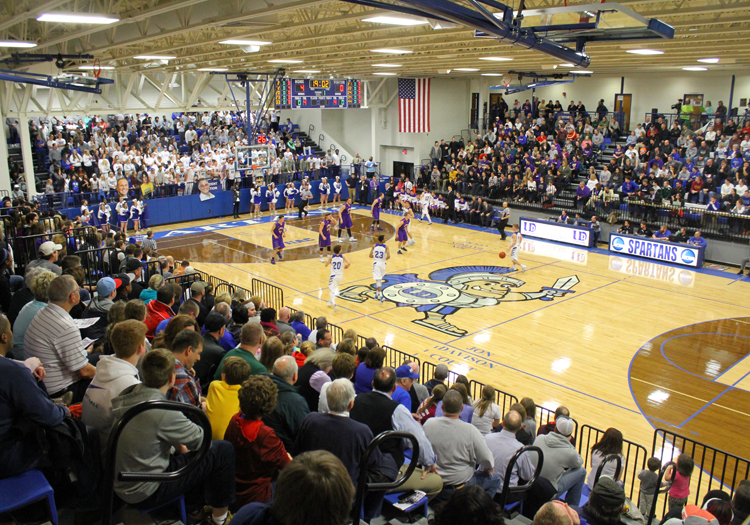 A capacity crowd was on hand to see the Spartans capture the victory over Loras "Live" on KCRG-TV 9.2 on Wednesday.
DUBUQUE, Iowa - The University of Dubuque captured the victory over the Loras College Duhawks with the largest crowd of the season on Wednesday night. The Spartans Andre Norris lead all scorers with 34 points and grabbed 15 rebounds in the 81-66 win. Norris hit his stride early and often in the night and cruised to halftime with a sizzling 24 points after a 10-13 shooting performance. Kain Arthofer would be the only other double digit scorer to finish the game for UD with 16 points.
UD connected for the first points of the game and would never look back as they stretched the lead to as much as 25 points around the six minute mark left of the final half. The Spartan Nation had plenty to cheer about and kept the energy in the student section loud and proud as the night's game was broadcast "live" on KCRG-TV 9.2 in Cedar Rapids, Iowa. The Spartans out rebounded the Duhawks by a slim 38-36 edge and finished the night shooting 54.8% from the field. UD was sizzling in the opening half, sinking 22-26 attempts from the field (61.1%). A scappy Duhawk team capped off the night sinking 27-64 attempts from the field (42.2%).

What a great crowd and a great environment for a college basketball game," said Head Coach Robbie Sieverding. "Andre showed why he is one of the best players in all of Division III basketball and really got us going in the first half. Their point guard has been playing well and had another great game but we were able to control some of the other guys. We did a solid job holding them to 42 percent and we shot the ball extremely well. We also got a nice lift from our bench with Deonte and Mitch."
The Spartans (12-6 overall) had sole possession of the Iowa Conference lead for a few short minutes before the Simpson College Storm captured the contest over Central by a 86-78 score. At the end of the night, the Spartans sit tied for first place with Simpson (12-6 overall) with a 4-2 conference mark. Saturday's match-up will be for the lead in the league when the ball tips off on Jon Davison Court at 4:00 p.m.

"Simpson comes to town on Saturday on a three game winning streak and is playing well," added Coach Sieverding. "We will need to play well and execute on both ends to be successful."