Norris Named to D3hoops.com Preseason All-American team
Nov 2, 2015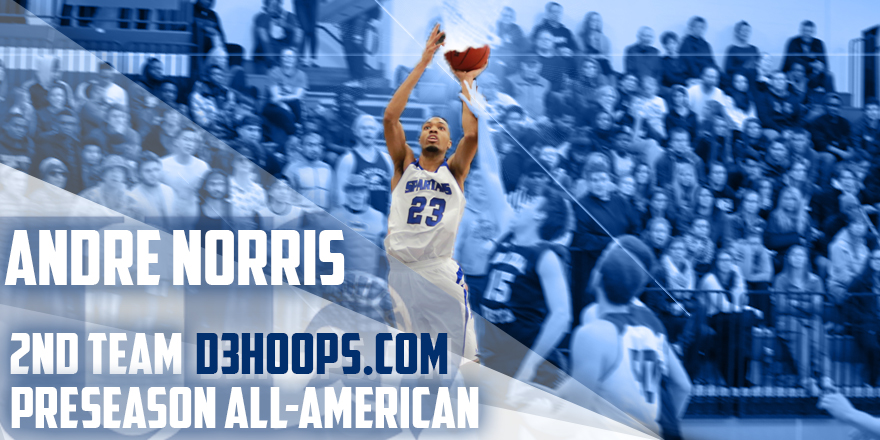 2015 D3hoops.com Preseason All-American teams
2015 Hero Sports Preseason All-American team
DUBUQUE, Iowa - After a successful 2014 where he was named Iowa Conference MVP and honorable mention All-American by D3hoops.com, senior Andre Norris represented the University of Dubuque men's basketball team as a second team preseason All-American pick by d3hoops.com.

Norris was also recognized as a 2015 Hero Sports (formerly Bennett Rank) Preseason All-American as well.

This is Norris first preseason All-American distinction following a season where he led the Spartans to a school record of 23 wins and to the Iowa Conference tournament title a year ago. The high-flying Plainfield, Ill. native averaged 24.7 points, 8.0 rebounds, 3.0 assists, 3.0 blocks, and 3.0 steals per game over their three-game, IIAC tournament stretch to capture their second tournament title in three years.

Norris, the 2014 IIAC MVP, paced the Iowa Conference with 21.1 points per game and also led the league in blocks (1.57) while finishing Top-6 in six other categories. Over the course of the season, the three-time All-IIAC performer averaged 20.0 points, 8.8 rebounds, 2.4 assists, 2.0 blocks, and 1.9 steals and shot 50.0% from the floor.

A true scorer best known for his thunderous dunks and emphatic blocks, the 6-7 forward is a threat from anywhere as a 42.3% career three-point shooter. Norris currently sits 12th overall in UD history with 1322 points and needs 606 points this season to become the all-time leader.

"Andre has been a staple for our success the past three seasons and he is looking forward to leading our team this year," said Head Coach Robbie Sieverding. "He is a special talent and has worked hard on his game to get where he is at. He creates such a match-up problem for opposing teams and we are hoping he can lead our team on a great ride this year."

Norris and the Spartans open up their season on Monday, November 16 at home against rival UW-Platteville at 7:00 p.m.