Offense Sputters for Women's Soccer in Iowa Conference Opener
Sep 26, 2015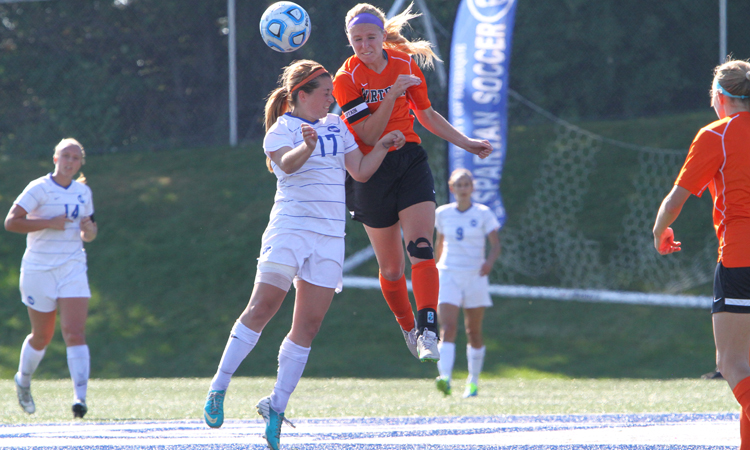 Spartan defender Shelby Nicholson (17) goes up for a header on Saturday afternoon against the Wartburg Knights.

BOX SCORE
DUBUQUE, Iowa - The University of Dubuque women's soccer team was held to four shots and gave up a penalty kick goal in a 1-0 loss to Wartburg on Saturday afternoon.

It was tough sledding for the Spartans (6-2-1, 0-1 Iowa Conference) after averaging 14.5 shots per game over eight non-conference bouts. The Knights (7-2, 1-0) held long possessions on offense, were methodical in their attack, and outshot the Spartans 10-4. Wartburg took advantage of a foul in the right side of the 18-yard box to knock in a penalty kick at the 59-minute mark. Despite limited opportunities the Spartans mustered a pair of good looks at the goal on a pair of crosses, especially in the first half.

A cross-shot by Emily Meeker was left of the mark and nearly connected with forward Ryann Abeyta as she attempted to knock a header in from a few yards out in a scoreless tie.

Forward Katie Lynn, leading the Spartan offense with 50 shots and six goals on the season, racked up only two shots on the night as the Spartans played without their third-leading shot taker in senior midfielder Lisa Rosas due to injury.

Defensively, Spartan goalkeeper Paige Dykstra totaled a game-high three saves in defeat.

With the loss, the Spartans snapped their four-game winning streak against Wartburg. UD now drops to 4-15 all-time against the Knights.

The Spartans host Cornell College this Tuesday, September 29 at 7:00 p.m.