Offensive Explosion Eliminates Spartans from IIAC Tourney
May 13, 2016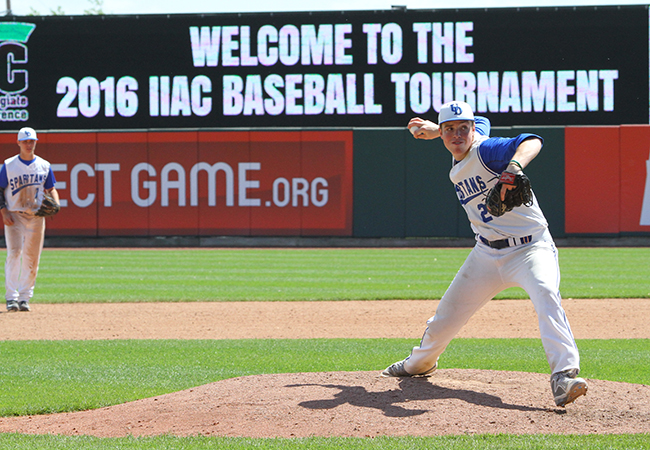 The Spartans jumped out to an early lead over the Simpson Storm on Friday, but the Storm rallied to win the game 10-6.
CEDAR RAPIDS, Iowa – Two home runs and ten unanswered runs from the Simpson bats in the sixth and seventh innings spoiled the University of Dubuque baseball team's early 4-0 lead as the Spartans were knocked out of the Iowa Conference tournament, 10-6, on Friday afternoon.

Third baseman Dalton Garst registered three hits for the second-straight game and shortstop Gaetano Florio posted two hits and a team-high three RBIs in defeat.

Florio's hard liner in the bottom of the ninth found the glove of Simpson's rightfielder as UD (19-23, 12-16 Iowa Conference) saw its rally cut short with bases loaded to end the game. Spartan seniors Daniel Karnick and Tyler Trifiletti, both pitchers, kept the Spartans in it down the stretch and combined for three innings of shutout ball to conclude their careers.
With UD starter Reed Stumpf (6-5) dealing on the mound, the Spartan offense was led by Florio's two-RBI single in the second and Kempf's two-RBI double in the fifth en route to the aformentioned 4-0 lead. Simpson (14-28, 10-18 Iowa Conference) countered with a pair of home runs from Bud Smith, one each in the sixth and seventh, in a 10-run explosion.

Simpson registered seven hits in the decisive two-inning stretch to take the season series, 3-2, over UD. It was only the second time in the last nine meetings the game has been decided by more than two runs.

Stumpf was chased after 6.0 innings and gave up six hits and six earned runs while fanning four. The junior fell one win short of tying the single-season school record for wins.

All but Karnick and Trifiletti return as the Spartans look for back-to-back IIAC tournament berths.