Seven Football Team Members Named to NFF Hampshire Honor Society
Apr 27, 2016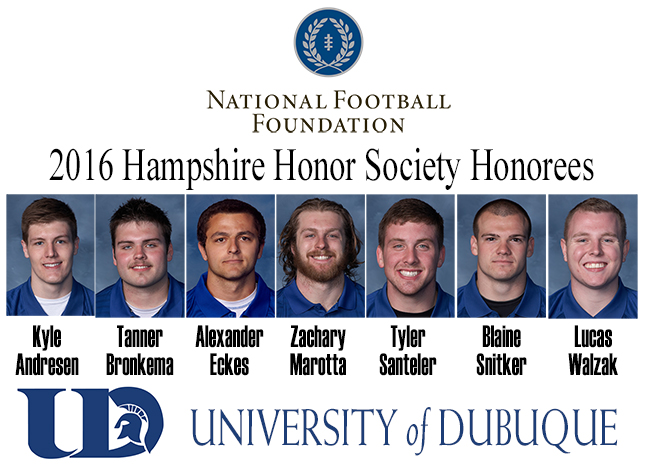 IRVING, Texas (April 27, 2016) - The National Football Foundation & College Hall of Fame (NFF) announced today the members of the 2016 NFF Hampshire Honor Society, which is comprised of college football players from all divisions of play who each maintained a cumulative 3.2 GPA or better throughout their college career. A total of 868 players from 275 schools qualified for membership as the society celebrates its 10th year, setting a new record for the number of players honored during the history of the program.
The University of Dubuque is proud to have seven seniors from their 2015 undefeated Iowa Conference season (7-0) included in the 2016 class. Those honored include: Kyle Andresen (OL, Oxford Junction, Iowa/Wyoming HS), Tanner Bronkema (OL, Forreston, Ill./Forreston HS), Alexander Eckes (WR, Watertown, Wis./Occonomowoc HS), Zachary Marotta (DL, Wayne, Ill./South Elgin HS), Tyler Santeler (TE, Big Foot, Wis./Big Foot Union HS), Blaine Snitker (LB, Waukon, Iowa/Waukon HS), and Lucas Walzak (LS, Carroll Stream, Ill./Wheaton North HS). Five out of the eight Iowa Conference schools had student-athletes honored for a total of 30 honorees in 2016.
Qualifications for membership in the NFF Hampshire Honor Society include:
Being a starter or a significant contributor in one's last year of eligibility (or a senior who has declared for the NFL Draft) at an NCAA Football Bowl Subdivision, Football Championship Subdivision, Division II, Division III or an NAIA college or university;
Achieving a 3.2 cumulative grade point average throughout entire course of undergraduate study; and
Meeting all NCAA/NAIA-mandated progress towards degree requirements.
"The number of colleges and universities who embrace the Hampshire Honor Society continues to increase each year," said NFF President & CEO Steve Hatchell. "Over the past decade, it has become a powerful vehicle for schools to recognize their college football players who have distinguished themselves both academically and athletically, and we congratulate the schools and each of these young men for their commitment to excellence."

The NFF Hampshire Honor Society capitalizes on the NFF's National Scholar-Athlete program by greatly expanding the number of scholar-athletes the NFF can recognize each year. The program further strengthens the organization's leadership role in encouraging academic performance by the student-athletes who play football at the 775 colleges and universities with football programs nationwide.
The 868 players honored in 2016 is a new high water mark, eclipsing the previous record of 838 honorees in 2014. The initiative has honored 6,620 student-athletes since its inception, and the program has experienced growth every year in either members or school participation since its launch in 2007. The top five for total honorees during the 10-year span of the program include Brown (104), Dayton (89), Yale (81), Nebraska Wesleyan (79) and Johns Hopkins [Md.] (77). Union College (N.Y.) holds the mark for the most honorees in a single year, boasting 18 members in 2012.
A total of 32 schools have had at least one student-athlete recognized in each of the Hampshire Honor Society's 10 years: Austin Peay State, Baylor, Brown, Bucknell, BYU, Colorado, Columbia, Dayton, Huntingdon (Ala.), Iowa, Johns Hopkins (Md.), Kentucky, Lafayette, Minnesota, Minnesota Duluth, Montana, North Dakota, North Dakota State, Northern Iowa, Penn State, Purdue, Redlands (Calif.), Saint John's (Minn.), SMU, South Dakota State, Wartburg (Iowa), Washington U. in St. Louis (Mo.), Wayne State (Mich.), West Virginia, Wingate (N.C.), Yale and Youngstown State.


Jon F. Hanson, the chairman and founder of The Hampshire Companies, provided the endowment to launch the NFF Hampshire Honor Society in 2007. He made the contribution as part of his legacy to the organization after serving as NFF Chairman from 1994-2006. He currently serves the organization as the chairman emeritus. Each player awarded with membership in this year's Honor Society will receive a certificate commemorating their achievement.
"It was my great privilege to endow the NFF Hampshire Honor Society, which has greatly increased the number of college student-athletes the NFF has been able to recognize during the past 10 years," said Hanson. "Nationwide there are thousands of football players excelling in the classroom, and they're going on to be great leaders. The NFF Hampshire Honor Society continues to grow and allows us to shine a light on their hard work."

"We have honored more than 6,500 student-athletes in the last 10 years thanks to Jon Hanson's generosity," said NFF Chairman Archie Manning. "We are grateful for his passionate belief in the scholar-athlete ideal, and the Hampshire Honor Society allows us to showcase the names of tomorrow's leaders while inspiring future generations to follow in their footsteps."
The Hampshire Honor Society represents an important component in the organization's rich history as an innovator in promoting the scholar-athlete ideal, which began in 1959 with the NFF National Scholar-Athlete Awards. Launched with a donation from Hall of Fame coach Earl "Red" Blaik, the NFF National Scholar-Athlete Awards, presented by Fidelity Investments, became the first initiative in history to grant postgraduate scholarships based on a player's combined academic success, football performance and community leadership. Since its inception, the NFF National Scholar-Athlete Awards program has awarded $10.9 million to 816 top scholars and community leaders.

Currently, the NFF distributes approximately $300,000 a year at the national level through the program to 12-15 individuals. Each recipient of an NFF National Scholar-Athlete Award receives an $18,000 postgraduate scholarship. Additionally, the William V. Campbell Trophy, presented by Fidelity Investments and displayed at its official home inside the New York Athletic Club, is given to one member of each year's class as the absolute best. The winner of the Campbell Trophy, claimed by Academic All-American and All-Big 12 center Ty Darlington (Oklahoma) in 2015, receives a total scholarship of $25,000 and a 24-inch, 25-pound bronze trophy. Through its chapter network, the NFF also awards an additional $1 million to local high school student-athletes, bringing the NFF's annual scholarship distribution total to more than $1.3 million.
---