Softball Set to Host Three High School Camps Starting on December 13
Dec 10, 2015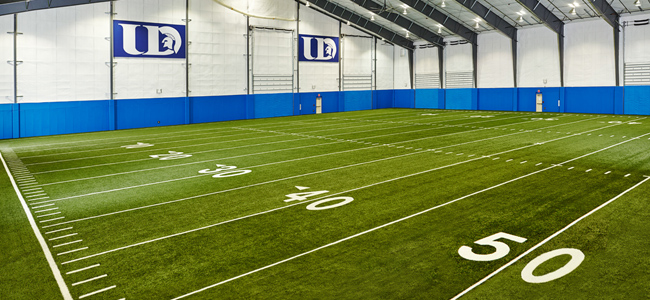 Campers will receive instruction from UD coaches and players in the state-of-the art Veterans Memorial Training Center.
UD High School Softball Camp Signup and Waiver FormsUD High School Softball Camp Signup and Waiver Forms
DUBUQUE, Iowa - Head Coach Wendi Wipperfurth and the University of Dubuque softball team will host three high school camps for grades 9-12 starting this Sunday, December 13, along with the dates of January 24 and February 21 in the Veterans Memorial Indoor Training Center. The one day camp will feature three sessions and provides instruction on all aspects of the game including pitching, hitting, slapping, catching, infield, and outfield training.

Goals of the camp include providing individual attention and introducing new training aids to enhance the skills of each athlete, meeting fellow competitors and improving in a unique atmosphere, training in a state-of-the-art indoor facility during the winter months, and acquiring new skills needed to be successful on and off the field.

The camp will be broken down into three sections and will take place on December 13, January 24, and February 21:
Session 1: Pitchers ($30) | 8:00 a.m. - 9:30 a.m. (Bring your own catcher)
Session 2: *Hitting/Slapping ($30) | 9:30 a.m. - 11:00 a.m.
Session 3: *Catcher/Infield/Outfield ($30) | 11:00 a.m. - 12:30 a.m. (Bring catching gear)
Campus tour (approx. 1 hr) to follow conclusion of last session
*Choose one option

Campers will receive instruction from Coach Wipperfurth and her staff, along with current and past collegiate athletes who will help better prepare players for the rigors of collegiate play:

-Coach Wipperfurth, a 20+ year veteran of the game, enters her sixth season as the Spartans head coach and played out her softball career at the University of Wisconsin-Platteville.
-UD assistant coach Caitlin Aulwes begins her first year after recently finishing up as a former All-Iowa Conference performer under Coach Wipperfurth.
-Pitching coach Mark "Vinnie" Rako enters his third season for the Spartans and has coached at the collegiate level for 14 years while participating in various tournaments across the country, including the Fastpitch Men's World Series.

Any further questions make sure to contact Head Coach Wendi Wipperfurth at wwipperfurth@dbq.edu, on her cell (608-558-5669), or in her office (563-589-3229).

‌