Sophomores Lead the Charge for Men's Tennis in 2016
Feb 5, 2016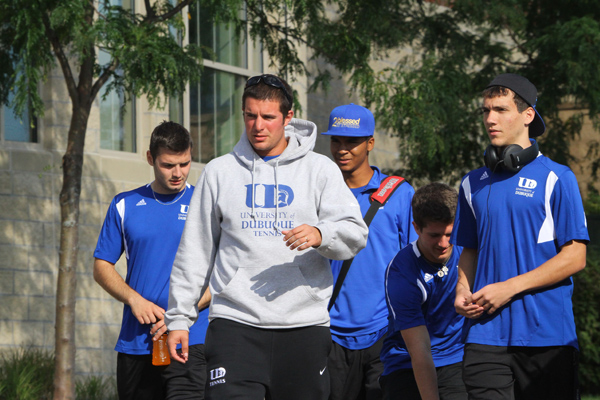 Head Coach Claudio Giraldi (middle, grey sweatshirt) and the Spartans boast a youthful squad heading into 2016 season.
DUBUQUE, Iowa – The University of Dubuque men's tennis team are led by a quartet of sophomores on a team devoid of seniors for the 2016 campaign.

Sophomore Matthew Sablay is the top returner for a team that will lose two of their Top-3 players from a year ago. Sablay was the primary No. 2 singles player last season and finished with the third-most victories after posting a 6-7 record.

Win leader last season, sophomore Jordan Hamling, finished 2014-15 with a 9-5 record out of the No. 5 spot and will team up with fellow sophomore Ranfer Hernandez (7-6 record as primary No. 4) as the top returning doubles duo.

A trio of talented freshmen headline this year's newcomers in Justin Castro, Alvaro Rubiano Blanco, and Michael Semon. Both coaches are excited about their returning squad and the addition of their solid trio of new players.

"We have graduated a couple of players and although it will be hard to replace student-athletes such as Gospodinov, we have solid players such as Sablay or Hamling back as well as the other returners," said Head Coach Claudio Giraldi. "I'm excited about our freshmen and I can see Castro doing really well this year."

"We have a great class of recruits this season with plenty of talent and passion, said Graduate Assistant Dishon Deering. "We are excited to see how they adjust to the collegiate level."

This season's schedule features two home dates on February 13 and against a pair of Iowa Conference foes on April 23. Unique opponents include Calvin (Mich.), Western New England (Mass.), and Division II's Augustana University (S.D.). The Spartans face rival Loras on the road Wednesday, April 13.

"We are ready to get started with our season," said Coach Giraldi. "This year we will travel a lot and will play some tough competition. The guys have been working hard the first two weeks of practices and we now get into the busy time of the year."
The newcomers and the rest of the Spartan contingent will be tested right out of the gate as they open the season with a triangular against Iowa Conference-perennial power, No. 36 Coe College, and UW-La Crosse hosted by Coe this Saturday, February 6 starting at 1:00 p.m.
Top Returners
Matthew Sablay | SOPH | Rowland Heights, Calif. | Singles: 6-8| Doubles: 3-11
Ranfer Hernandez | SOPH | Chia Cundinamarca, Colombia | Singles: 8-6 | Doubles: 5-9
Jordan Hamling | SOPH | Forsyth, Mo. | Singles: 9-5 | Doubles: 3-11
Zebulon Hill | SOPH | San Diego, Calif. | Singles: 3-10 | Doubles: 4-8

Top Newcomers
Justin Castro | FR | Mexico City, Mexico
Alvaro Rubiano Blanco | FR | Malden, Mass.
Michael Semon | FR | Rice Lake, Wis.

Stat
6-2
Hernandez and Hamling each finished 3-1 in three-set matches during 2014-15 and won six of their third sets by a combined margin of +27 (48-27).