Spartans Football Overcome by #9-ranked Johnnies
Sep 6, 2015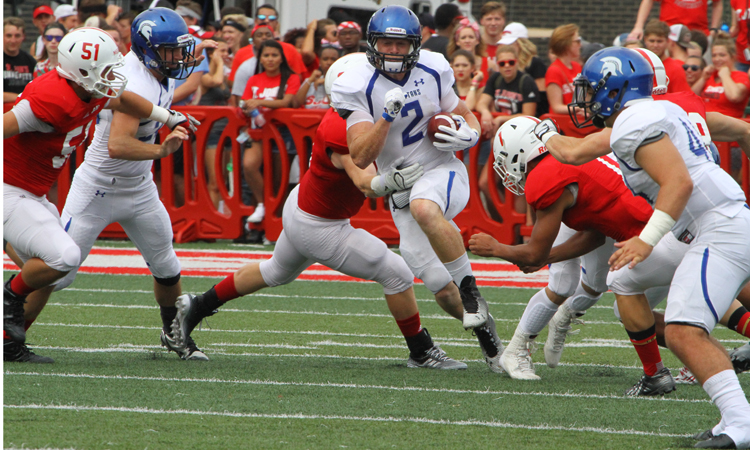 COLLEGEVILLE, Minn. - The University of Dubuque football team faced a tough opponent on their home field on Saturday and the game fell in favor of the #9-ranked St. John's University Johnnies by a score of 45-9 over the Spartans. UD won the coin toss in the first half, but it was the Johnnies who took advantage of the spot on the field after three quick punts by UD in the opening quarter gave the host Johnnies the ball near midfield in all three consecutive possessions. St. John's would score two touchdowns and a field goal to extend their lead by 17.
The Spartans defense battled in the trenches despite the field position and began to put some pressure on the quarterback, but not before the Johnnies extended the lead to a 31-3 halftime advantage. UD moved the ball down the field and would settle for a 30 yard field goal by Curtis Prull with just 18 seconds left of the opening half of action.
UD's lone touchdown happened late in the third quarter off a one yard scamper by Alec Arvanitakis with 1:03 remaining. Arvanitakis finished the afternoon with 11 carries for 56 yards. Dai Von Vance-Jenkins led the ground attack with 21 carries for 85 yards. Rio Johnson earned his first start at quarterback for the Spartans by completing 15-30 pass attempts for 159 yards. His favorite targets were Dylan Schultz who grabbed four catches for 34 yards, Chris Bagley who caught three passes for 31 yards, and Jonathan Duarte who had two catches for 39 yards.
The Spartans ended with 311 yards of offense, but penalties proved costly as they gave up 110 yards in 10 penalties. On Special teams Brayden Neuendorf finished with three kickoffs for 186 yards or an average of 62.0 yards. Schultz returned seven kickoffs for 126 yards with his longest being a 24 yard return. Defensively it was a trio of Spartans who all finished with nine tackles each: Michael Joseph, Dylan Hastings, and Larry Harleston, with Hastings forcing a fumble.
Next week the Spartans will host UW-Platteville in the "Battle of the Bridge" game sponsored by Dairy Queens of Dubuque and Platteville. Kick off is slated for 6:00 p.m. on Sept. 12 on Chalmers Field.