Spartans Move On to First Ever IIAC Title Game
Nov 4, 2015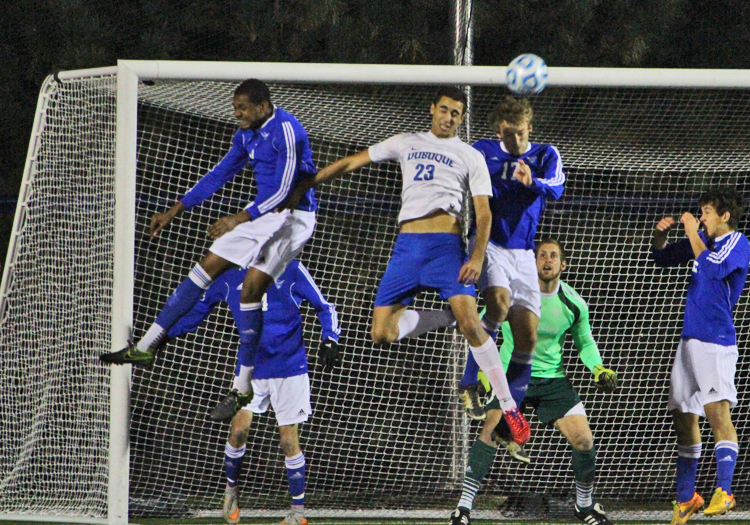 Junior forward Gonzalo Hernandez (No. 23) goes up for a contested header in 1-0 victory over Luther on Wednesday night.
BOX SCORE
DUBUQUE, Iowa - Junior Felipe Sanchez scored his first goal of the year in the 23rd minute and the No. 2 seed University of Dubuque men's soccer team survived a wild finish to defeat No. 3 seed Luther, 1-0, and advance to their first-ever Iowa Conference tournament title game in school history.

Sanchez, the man they call Cho Cho, saved his only goal of the year for the biggest game of the season after connecting off a shallow cross from senior Billy Belmonte five yards out. The lone score of the game would hold true, despite a Luther offensive that ripped daring shots and lobbed well-placed corner kicks in the final minutes.

UD senior goalkeeper Riley Jensen was brilliant against the Norse (11-6-3) after facing a pair of dangerous corner kicks and shots down the stretch. A screaming shot passed through a crowded box and careened off the post in the 87th, followed by a diving stop by Jensen in 88th to preserve his fifth shutout of the year. The 2014 First Team All-IIAC selection finished the game with seven saves, many of them diving stops.

The Spartans (12-5-1) had their chances to extend the lead in the second half, but were thwarted by Luther goalie Tommy Breen and his six saves. Less than five minutes into the second, defender Danny Daniels launched a 45+ foot free kick that just caught the leaping, outstretched hand of Breen. Sophomore Leo Lenth's laser of a header off a well-timed cross from Belmonte ended up straight in the arms of Breen in the 62nd minute.

UD sent Luther to their third-straight, IIAC semifinal defeat despite trailing in the shot count, 12-10, and matching the Norse with seven corner kicks.

Playing for their first Iowa Conference tournament title berth since 2011, the Norse continued to battle without Nigel Nielsen, the Iowa Conference's leading goal scorer during IIAC play, for a crucial 18-minute stretch in the second half due to an injury precaution after a hard collision. Nielsen nearly brought them back with his shot off the post in the 87th sandwiched by both of his corner kicks. The junior finished the game with three shots, including one on goal.

"An outstanding performance on many levels!" said Head Coach Brad Johnson. "I believe our team displayed a tremendous mentality and work rate throughout the match. We are looking forward to the next challenge and continuing to elevate our program to new heights."

The Spartans face their chief rival, Loras, this Saturday, November 7 at their place in an attempt to avenge a 2-1 loss in the IIAC semifinals a year ago. Loras, the No. 1 IIAC seed, defeated No. 4 Simpson, 3-0, after scoring three times in the first 20 minutes.