Spartans Rally Past Crusaders
Dec 2, 2015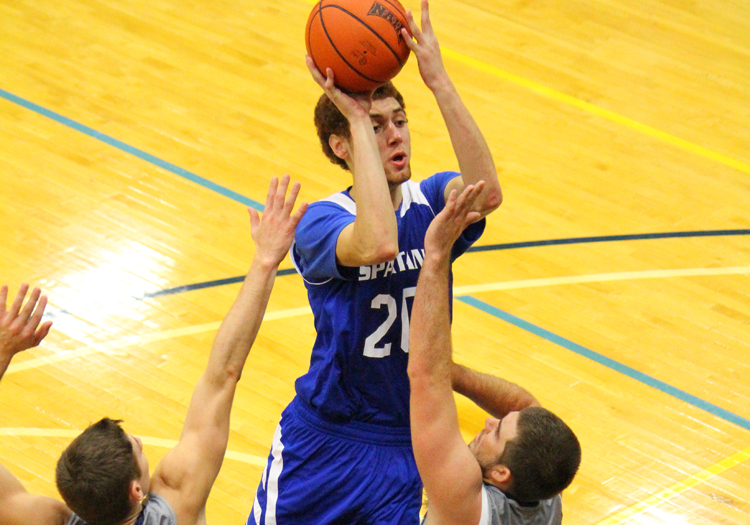 Junior Kain Arthofer scored a season-high 24 points, including 18 in the first half, in victory over Clarke University.
DUBUQUE, Iowa - The University of Dubuque men's basketball team started off slow on Wednesday night, but shot their way back into the game to capture the victory 84-77 over the Clarke University Crusaders.
The host Crusaders jumped out and earned the ball on the tip-off and would stretch their lead to 13 points in the first 10 minutes of the opening half of action. The Spartans wouldn't capture the lead until the 3:29 mark off a Kain Arthofer tip-in putting the Spartans up 30-28. UD would finish the half on a 13-0 run to lead by fifteen points at the break 43-28. UD sank 17-34 shots from the field and made 6-11 three point attempts. The Crusaders shot a chilly 27.3% from beyond the three point arc.

"We didn't start the game the way we wanted, but ended up putting together a great 35-7 run to close the half," Head Coach Robbie Sieverding said.
The Spartans stretched the lead in the second half to as much as 19 points, before the Crusaders chipped their way back into the game. Two Crusaders free throws at 6:17 would cut the Spartan lead to just nine points. Four minutes later the lead slipped to four points, as the Spartans were called for 19 fouls in the second half and the Crusaders sank 21-29 free throw attempts. UD held on and captured their fourth win of the season.
Andre Norris led the Spartans with 27 points and 12 rebounds. Kain Arthofer (pictured above) sank 4-9 three point attempts for 24 points, Jacob Mohlis added 13 points, and Deonte Newsome came off the bench to finish with nine points in 17 minutes of action. UD's bench would score just 13 points and Crusaders bench finished with 15 points.

"Kain and Andre really scored the ball well tonight and Newsome gave us a good lift off the bench," Coach Sieverding said. "We showed some signs of being a very good team, but we also had some empty possessions on offense and some defensive rotations need to be cleaned up. UW-Sout will present a different challenge and will have our full attention."
The Spartans (4-2 overall) return home to the friendly confines of Jon Davison Court in Stoltz Sports Center to face UW-Stout on Dec. 8 at 7:00 p.m. before facing No.8 Elmhurst College on Dec. 12 at 4:00 p.m.