Throwers, Field Events Lead Spartans Into IIAC Outdoor Championships
May 10, 2016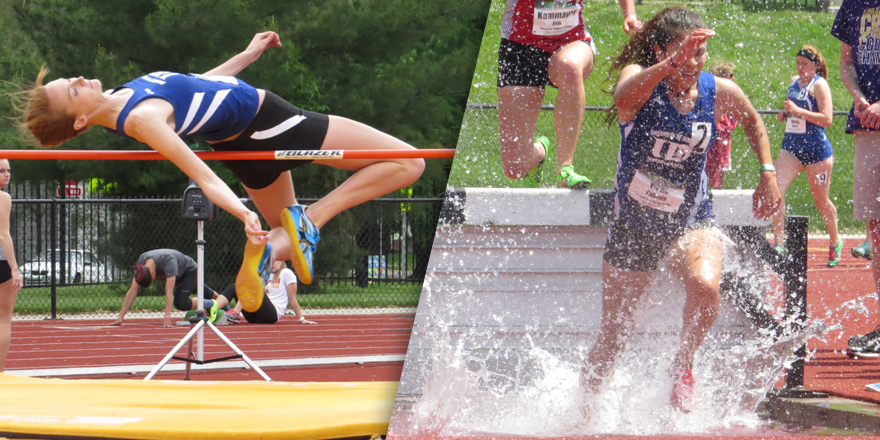 Senior Alexis Higgins and junior Fabiola Ortiz represent the Spartans' defending Iowa Conference outdoor champions in search of a repeat this Thursday-Saturday, May 12-14.
Complete IIAC Championship Meet Schedule
2016 IIAC Rankings
HEAT SHEETS and LIVE RESULTS
DUBUQUE, Iowa –The University of Dubuque men's and women's track and field teams boast seven Iowa Conference leaders and 20 Top-5 marks in the field events heading into the Iowa Conference outdoor track and field championships from Thursday, May 12 to Saturday, May 14 hosted by Wartburg College.

The Spartans look to carry their momentum over after a successful regular season finale last Friday, May 6 at Loras' Dr. Tucker Open that produced 25 personal records, two UD school records, three Iowa Conference leaders, and three Top-25 Division III marks.

Eight All-Iowa Conference outdoor performers from last season, four from each gender, return including junior Fabiola Ortiz and senior Alexis Higgins, who will defend their 3000m steeplechase and high jump IIAC titles, respectively.

Men
Freshman standout, Blaze Murfin, paces a Spartan throwing crew that leads the IIAC in three of four throwing events. Murfin leads the IIAC in the shot put and hammer throw, while sitting third in the discus behind teammate Alex Link, the current IIAC leader.

Link and senior triple jumper, Kebba Bojang, represent two of four returning outdoor All-IIAC performers from 2015.

Bojang has the furthest triple jump in the IIAC (47-2.25/14.38m) and is the reigning Iowa Conference Track (Field) Performer of the Week. Bojang aims for his third IIAC triple jump title and fifth All-IIAC finish.

First-year sprinter Isaiah Ellis leads the conference in the 200m (21.79), sits third in the 100m (10.92), and anchors the fastest 4x100m relay team (41.63).

Both Alec Bass (1500m, 3:56.43) and pole vaulter Alex Schlueter (14-4.5/4.38m) rank second in their respective disciplines in the conference.

Women
Ortiz will defend her 3000m Steeplechase as the number one seed (11:21.05) with two contenders within seven seconds of the 2015 outdoor champ. Higgins will have her hands full in the high jump and is tied for the second-best jump (5-3), four inches behind the current leader and last year's runner-up.

Atwater, who leads the nation in the shot put and the IIAC in both the shot put and hammer throw by a wide margin, anchors a prolific throwing contingent that has posted seven, Top-5 IIAC marks. Senior Nicole Forson (shot put and hammer throw) and freshman Rebecca Burmahl (discus and hammer throw) both own two, Top-5 marks each.

Freshman transfer, Aleyha Slatter, who finished eighth at the IIAC Indoor Championships, leads the triple jump field by 4.5".
Returning All-IIAC Outdoor Performers
Men
3000m Steeplechase – 3rd Payton Nevills
Triple Jump – 3rd Kebba Bojang
Discus – 2nd Alex Link
Hammer Throw – 3rd Mario-John Otchere
Women
3000m Steeplechase – 1st Fabiola Ortiz
High Jump – 1st Alexis Higgins
Shot Put – 3rd Tanasha Atwater
Hammer Throw – 3rd Nicole Forson
UD Men's Top-5 IIAC Ranks
100m – 3rd Ellis (10.92), 4th Toomer (10.95)
200m – 1st Ellis (21.79)
400m – None
800m – None
1500m – 2nd Bass (3:56.43)
5000m – None
10000m – None
110m Hurdles – None
400m Hurdles – None
3000m Steeplechase – None
4x100m relay – 1st (41.63)
4x400m relay – None
4x800m relay – No leaderboard
HJ – T4th Lawson (6-4.75/1.95m)
PV – 2nd Schlueter (14-4.5/4.38m)
LJ – 4th Pickett (21-6.75/6.57m)
TJ – 1st Bojang (47-2.25/14.38m), 3rd Jackson III (45-4.25/13.82m)
SP – 1st Murfin (52-3.25/15.93m)
Discus – 1st Link (155-8/47.46m), 3rd Murfin (153-10/46.89m)
HT – 1st Murfin (170-0/51.82m), 4th Link (159-11/48.74m)
Javelin – None
Decathlon – None

UD Women's Top-5 IIAC Ranks
100m – None
200m – None
400m – None
800m – None
1500m – None
5000m – None
10000m – None
100m Hurdles – 5th Sanchez (15.15)
400m Hurdles – 3rd Solis (1:04.70)
3000m Steeplechase – 1st Ortiz (11:21.05)
4x100m relay – 5th (49.56)
4x400m relay – None
4x800m relay – No leaderboard
HJ – 2nd Higgins (5-3/1.60m)
PV – T3rd Zbilski (10-4/3.15m)
LJ – None
TJ – 1st Slatter (35-0.25/10.67m)
SP – 1st Atwater (47-7.25/14.51m), T4th Egnarski/Forson (40-11.5/12.48m)
Discus – 3rd Burmahl (138-11/42.34m)
HT – 1st Atwater (176-3/53.72m), 3rd Forson (162-8/49-58m), 5th Burmahl (155-0/47.25m)
Javelin – 2nd Willis (119-7/36.45m)
Heptathlon - None

Keep up-to-date with the latest Spartan athletics news/results on Twitter: @UDubuqueSports