Victories by Atwater and Bojang Lead to IIAC POW Awards
May 10, 2016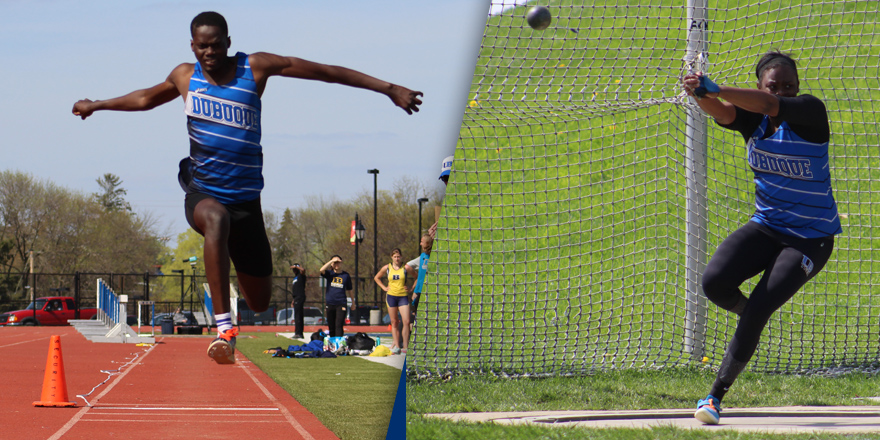 Senior Kebba Bojang and sophomore Tanasha Atwater both won titles at last Friday's Dr. Tucker Open en route to IIAC Male and Female Track Performer of the Week awards.
Atwater profile
Bojang profile
Official IIAC release
DUBUQUE, Iowa – Sophomore women's thrower Tanasha Atwater won both the hammer throw and the shot put, while senior men's triple jumper Kebba Bojang took home the triple jump title at Loras' Dr. Tucker Open on their way to winning Iowa Conference Track Performer of the Week awards.

Atwater won her seventh and eighth events of the outdoor season and set a new school record in the hammer throw (53.72m/176-3). The Davenport, Iowa native now ranks 10th in Division III in the hammer throw and leads the nation in the shot put (14.51m/47-7.25).

It was Atwater's sixth Iowa Conference track performer of the week award, all in 2016, as she set her fourth school record of the season. The sophomore has won 14 of 16 total shot put competitions and will qualify for her third straight Division III National Championship meet at the end of May.

Bojang won his second triple jump event in only his third outdoor competition of 2016 with an Iowa Conference-leading leap of 14.38m/47-2.25. The Madison, Wis. native leads the conference by 16 inches after securing his second career Iowa Conference track and field performer of the week award.

His triple jump now ranks 18th nationally, just inside the Division III outdoor meet qualifying cutoff. The Top-22 women and Top-20 men in the country qualify.

Atwater and Bojang will compete at the Iowa Conference Championships this Thursday-Saturday hosted by Wartburg. The Knights also host the Division III National Outdoor Championships from May 26-29.