Volleyball's Offense Sputters in Senior Night Defeat
Oct 28, 2015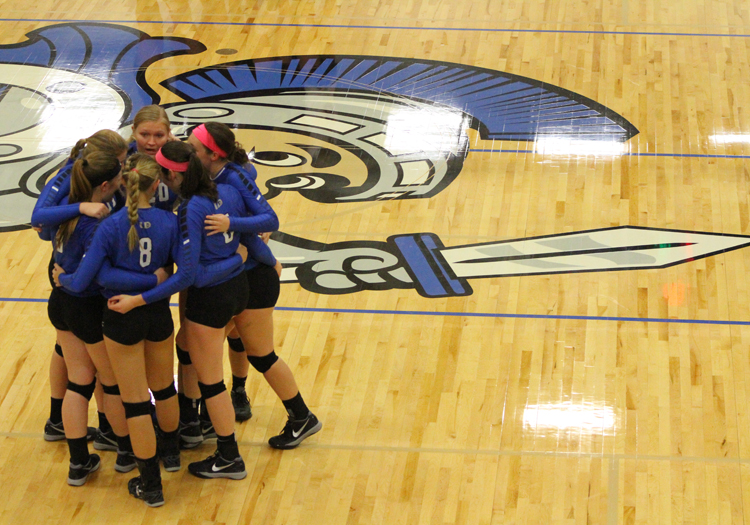 BOX SCORE
DUBUQUE, Iowa - Seniors Klaudia Basierak and Amanda Reetz were honored pre-game as the University of Dubuque volleyball team was held to a .094 hitting percentage in a three-set defeat to Loras (18-25, 23-25, 19-25) on Wednesday night.

Both squads had a lot to play for as they fought to improve their seeding for the upcoming Iowa Conference tournament. With the possibility of a five-way tie for second-place, Loras (21-12, 5-2 Iowa Conference) escaped with sole possession of the No. 2 seed while the Spartans (15-17, 3-4 Iowa Conference) held on to the No. 6 seed. UD will face No. 3 seed Buena Vista next Tuesday on the road at 7:00 p.m. as they go for win number two over the Beavers this season.

The Spartans bolted out to early leads of 10-6 and 10-3, respectively, in sets one and two, but couldn't hang on. Costly errors allowed the Duhawks to claw their way back to 14-14 in both instances en route to a pair of set victories. UD had a chance to tie it up at 24 apiece in the second set, but an errant serve fell just outside the line. Basierak racked up 10 of her game-high 12 kills over the first two sets in her final game at home.

UD surrendered four straight points after a 4-4 tie in the third set as Loras ran away.

Spartan libero Kristin Wright posted 16 digs, setter Hannah Zieser tallied 18 assists, and senior Reetz posted two kills, one dig, and two block assists in her final home match.

The Spartans dropped to 32-42 all-time against Loras and could face the Duhawks in the Iowa Conference semifinals if they defeat Buena Vista in the first round.

Prior to the start of the IIAC Tournament the Spartans conclude their regular season against Westminster College and North Park University this Friday, October 30 at the Augustana Pumpkin Bash.