Wetherald and Esparza Tabbed Second Team All-CCIW Women's Lacrosse
May 10, 2016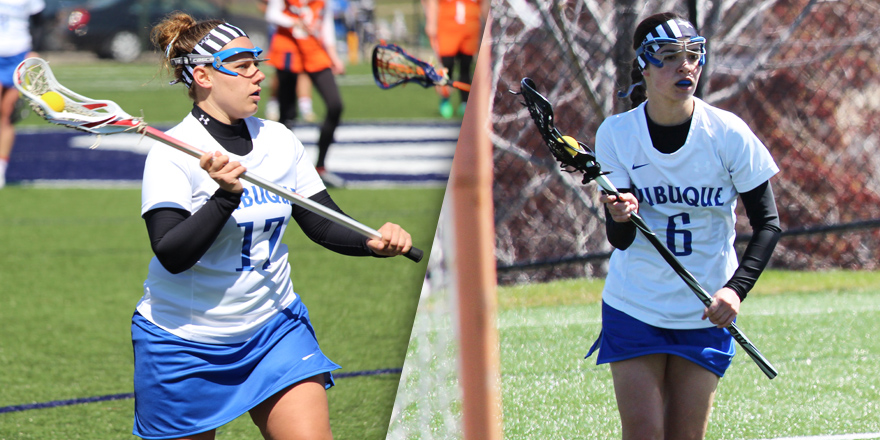 Senior Kelly Wetherald and junior midfielder Alora Esparza earned their first career All-CCIW honors after placing on the Second Team.
Official CCIW release
2016 UD Women's Lacrosse Stats
DUBUQUE, Iowa – Senior attacker Kelly Wetherald set a UD single-season record with 55 goals and junior midfielder Alora Esparza paced the Spartans in caused turnovers as the pair earned Second Team All-CCIW honors after leading the University of Dubuque women's lacrosse team to a school record 11 wins in 2016.

Wetherald and Esparza became the fourth and fifth All-CCIW selections in school history in the Spartans record-setting season where they finished with an 11-6, 2-5 CCIW record.

Wetherald earned her first honor after ranking fifth with 32 shot attempts and sixth with 15 goals scored in seven CCIW games. The senior notched her fourth, five-goal outing of the season in win over Elmhurst in the season finale to extend the Spartans school record to 11 wins.

The Homer Glen, Ill. native led the team in goals (55), shots (102), points (74), and shots on goal (78) while scoring in all but one game in 2016. Wetherald finishes with 99 career goals, second all-time in UD history.

Wetherald majors in Nursing.

Esparza collected her first All-CCIW award as a versatile threat and ball-hawk that ranked third in ground balls (4.83 per game) and fourth in caused turnovers (2.17) during CCIW play.

The junior totaled a career-high eight points (four goals and four assists) to go along with seven ground balls and three caused turnovers in CCIW-opening win over Carroll, 16-3. Esparza scooped up a career-best nine ground balls in season-ending win over Elmhurst.

The Silvis, Ill. native majors in Nursing.